Revealing plans for a mixed-use development in Midtown Toronto
December 28, 2020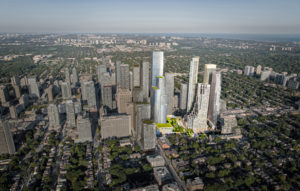 Oxford Properties Group[2] and partner CT Real Estate Investment Trust[3] (CT REIT) have submitted a rezoning application for Canada Square to redevelop a 3.7-ha (9.2-acre) Midtown Toronto site with a 278,709 m2 (3 million sf) mixed-use master-plan.
The proposal will deliver five mixed-use towers with over 60,387 m2 (650,000 sf) of new office space, street-related retail, 2700 new homes, new community amenities and landscaped open spaces, improved transit infrastructure, and a dedicated community space, in multiple phases. The development puts open space at the heart of the project with approximately half of the site dedicated to delivering new outdoor space for the community.
"The rezoning application marks an exciting milestone for the redevelopment plan and builds on the stakeholder engagement process that Oxford initiated back in 2017," said Andrew O'Neil, vice-president, development, at Oxford Properties. "Through continued collaboration with stakeholder groups including the local community, the City of Toronto, and transit agencies, we believe our master-plan proposal will deliver significant community benefits and unlock the potential of this technically complex, transit-connected site in the heart of Midtown Toronto."
Oxford has engaged an award-winning team for the master-plan, including an architectural design team led by Pelli Clarke Pelli Architects[4] and Hariri Pontarini Architects[5], with Adamson Associates Architects[6] as executive architect. OJB Landscape Architecture[7] will set the vision for the new open space and public realm. The development plan envisions a phased implementation strategy and a series of three precincts with distinct but complementary identities that integrate with the surrounding context.
A mixed-use precinct anchors the north side of the site featuring a tower that will accommodate 60,387 m2 of contemporary office space and approximately 420 residential units. This precinct will also accommodate transit improvements including a new Toronto Transit Commission (TTC) bus terminal that integrates with the existing subway concourse. At street level, the public realm will be transformed with a new plaza that leads from the intersection to a new landscaped open space immediately south of the mixed-use tower, a creative use of the bus terminal's roof.
A residential precinct at the south side of the site features four residential towers including street-related retail and office space for community professional services, such as medical and dental uses, all oriented around a central courtyard accessed from a new public street. The buildings are configured with heights scaling down to the south and west, with terracing to provide appropriate height transition to the surrounding residential neighbourhoods. The buildings in the residential precinct will also overlook new, proposed parkland.
The central precinct features generous amounts of open space and serves to both transition the north-south grade changes across the site while also providing a new accessible east-west route. A new 929-m2 (10,000-sf) community space also features prominently in the central precinct, with the potential to accommodate a day-care centre, recreation space, or other community services.
The planned development improves the connectivity of the site both through better access to transit and by creating a walkable, accessible neighbourhood connected by green space to allow pedestrians to traverse what is today a largely impermeable site.
"Our phased approach to development seeks to navigate the site challenges to deliver a compelling public realm, new amenities, and exciting experiences at each stage of the project," said Mark Cote, head of development, Canada, Oxford Properties.  "The current pandemic has vividly demonstrated the need for additional outdoor space in our urban centres and our proposal for Canada Square, where approximately half of the site is dedicated to open space, puts it at the heart of this development."
Endnotes:
[Image]: https://www.constructioncanada.net/wp-content/uploads/2020/12/Opener-4.jpg
Oxford Properties Group: http://www.oxfordproperties.com
CT Real Estate Investment Trust: https://www.ctreit.com/English/home/default.aspx
Pelli Clarke Pelli Architects: https://pcparch.com/
Hariri Pontarini Architects: https://hariripontarini.com/
Adamson Associates Architects: https://www.adamson-associates.com/
OJB Landscape Architecture: https://www.ojb.com/
Source URL: https://www.constructioncanada.net/revealing-plans-for-a-mixed-use-development-in-midtown-toronto/
---