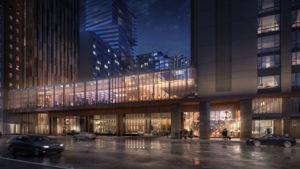 Park Hyatt Toronto and Oxford Properties announced the fully restored luxury hotel will re-open in September.
The re-imagined Park Hyatt Toronto will combine luxury, sophistication, and glamour with a nod to Canadian heritage, Art Deco, and literature. The hotel collaborated with designer Alessandro Munge of Studio Munge, who drew inspiration from Canada's seasons and natural landscapes to bring this experience to life. The hotel seeks to offer a home-away-from-home experience with purpose and style through modern materials and soothing colour schemes.
Park Hyatt Toronto is rooted in celebrating the sophistication of the arts, the hotel said in a press release. The 17th-floor cocktail bar will be known as the Writers Room, paying homage to the history of literary legends that shared moments in Park Hyatt Toronto. This interpretation of a classic cocktail bar reflects the bar's history as a gathering spot for great minds as they take in the unparalleled Toronto skyline views, the press release said. The hotel will also announce a new culinary destination, influenced by the spirit of Toronto's arts and culture scene.
The restoration of Park Hyatt Toronto comes as part of a wider redevelopment of the site into a mixed-use destination by its owner, Oxford Properties.
"We felt a deep sense of obligation to create a destination that not only respects and embraces Park Hyatt Toronto's storied history, but one also reflecting Toronto's emergence as a truly global city," said Tyler Seaman, head of hotels and multi-residential, North America, at Oxford Properties. "This project is a celebration of the best of Canada. It is reflected in its design palette, which is influenced by the Group of Seven, the curated art on display, and right down to the materials we used including limestone-flooring from Owen Sound."
The hotel will feature a permanent art collection highlighting pieces from renowned Canadian and Indigenous artists. Guests will be greeted in the lobby by a large-scale tapestry designed by Canadian artist Shannon Bool, which will set the tone for each guest's immersive stay. The 219 guest rooms, including 40 luxurious suites, will balance residential comfort with contemporary design.