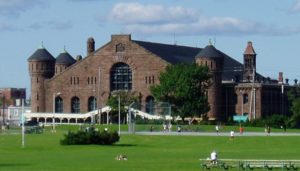 The Halifax Armoury restoration process is expected to cost $30 million more as well as take another three years to complete. The price of the project has now risen to $160 million, where it was $130 million beforehand.
The first phase of the project, which included re-building the west wall, now has a completion date estimated for 2022, according to a CBC news report.
The report by CBC news says the project encountered numerous challenges, including an initial six-month pause to "finalize heritage factors," and a one-year delay to secure an adequate supply of sandstone.
Restrictions due to the COVID-19 pandemic made it difficult to get materials and restricted the ability of construction workers to travel to Halifax.
The project will include geothermal heating and cooling, sandstone repair, upgrades to meet new national building code standards, removal of hazardous materials and inclusion of metal roof shingles for longevity, reports CBC news.
Design work for phase two—to fix up the rest of the building—is a work in progress. Construction is expected to begin in 2023 and will take an estimated five years to complete.
The restoration will provide structural and interior upgrades to support operations of the Princess Louise Fusiliers, Halifax rifles (Royal Canadian Armoured Corps), and one army cadet corps, while maintaining the historical character of the armoury.