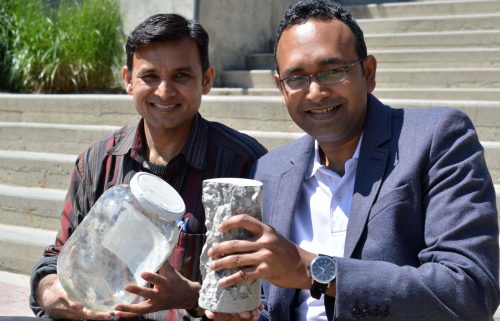 Researchers at the University of British Columbia (UBC) found a reliable way to make concrete from discarded glass by calming the chemical reaction that usually causes 'concrete cancer.'
When glass-fed concrete weakens, expands, and cracks it is known as 'concrete cancer.' It occurs when the alkaline properties in cement paste react with silica properties that can occur in recycled concrete additives, such as glass. Associate professor of engineering Shahria Alam and his co-researcher Anant Parghi found adding a water-based, synthetic rubber polymer, fly ash, and silica powder to the concrete mixture helped stop negative chemical reactions.
"By partially replacing cement with polymer, fly ash, and glass powder, we were able to produce concrete that was more than 60 per cent stronger than what was previously believed possible," said Parghi. "Though further testing is needed to assess long-term stability, it now looks like we can replace up to 25 per cent of cement materials that had to be mined for cement production with glass."
All glass used in the study was taken from the landfill in Kelowna, B.C., and was considered to be waste.
"Every year, millions of tonnes of glass bypass recycling centres and end up in North American landfills," said Alam. "Like many engineers, we are interested in making smarter building materials that can give the construction industry the resources they need to take new resources out of the ground."
To purchase the journal the study was published in, click here.