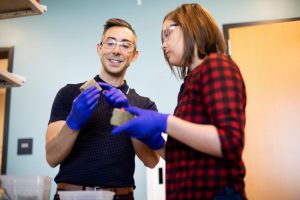 University of Colorado (CU) Boulder researchers have developed a new approach to designing more sustainable buildings with the help of bacteria.
In a study published in the journal Matter, engineer Wil Srubar, an assistant professor in the Department of Civil, Environmental, and Architectural Engineering (CEAE), and his colleagues describe their strategy for using bacteria to develop building materials that might deliver a lower carbon footprint.
These microorganisms-turned-bricks are not available just yet, but the researchers say their ability to keep the bacteria alive with a high success rate shows 'living' buildings might not be too far off in the future. Such structures could, one day, heal their own cracks, suck up dangerous toxins from the air, or even glow on command.
Today's more corpse-like buildings materials, in contrast, can be costly and polluting to produce, Srubar said, making the cement and concrete alone needed for roads, bridges, skyscrapers, and other structures generates nearly six percent of the world's annual carbon dioxide (CO2) emissions.
In particular, he and his colleagues experimented with cyanobacteria. Under the right conditions, these green microbes absorb CO2 gas to help them grow and make calcium carbonate, the main ingredient in limestone and cement.
To begin the manufacturing process, the researchers inoculate colonies of cyanobacteria into a solution of sand and gelatin. With the right tweaks, the calcium carbonate churned out by the microbes mineralize the gelatin, which binds together the sand and produces a brick. Additionally, such bricks could remove CO2 from the air, not pump it back out.
In the new study, the team discovered that under a range of humidity conditions, they have about the same strength as the mortar used by contractors today.
The researchers also found the materials could reproduce. Chop one of these bricks in half, and each half is capable of growing into a new one.
If the materials can be grown biologically, then there is potential to manufacture it at an exponential scale, but Srubar notes there is a lot of work to do before that happens. The team's cyanobacteria, for example, need humid conditions to survive, which is not possible in more arid regions of the world. So he and his team are working to engineer microbes that are more resistant to drying out so they remain alive and functional.
Srubar imagines a future in which suppliers could mail out sacks filled with the desiccated ingredients for making living building materials. Just by adding water people onsite could begin to grow and shape their own microbial homes.