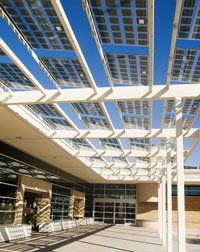 A new report funded by Natural Resources Canada (NRCan) says now is the best time to emphasize energy efficiency in buildings.
The Conference Board of Canada publication, "Energy Management in Commercial Buildings: The Value of Best Practices," says commercial structures are currently responsible for 14 per cent of the country's secondary energy consumption. It estimates by 2032 about three-quarters of these buildings will be either newly built or retrofitted—making the present critical for moving toward best practices to achieve capital savings and reduce greenhouse gas (GHG) emissions.
The report argues incorporating energy management early in the design phase helps ensure equipment is selected on a lifecycle cost basis, rather than initial price tag. This also helps make certain energy efficiency is a primary objective from the project's inception. New buildings and retrofits will both be able to benefit from proper commissioning of new equipment and building automation.
According to the report, the best practices outlined are achievable only through collaboration among building owners, operators, and occupants. It asserts governments must support these best practices through policies, incentives, and pilot programs, while also co-ordinating standards and codes between governments and providing public access to benchmarking data.