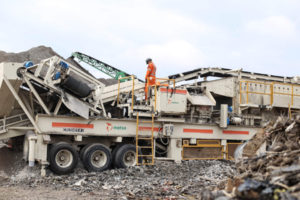 A new study by the Toronto and Area Road Builders Association (TARBA) finds many municipalities in Ontario have policies prohibiting or severely limiting the use of recycled asphalt and concrete in road construction and other public works.
As a result, every year, millions of tonnes of this material are stockpiled in mountains of urban rubble or dumped in landfills instead of being reused in municipal infrastructure projects.
"This is a terrible waste of a valuable resource," says Rob Bradford, executive director of TARBA.
Municipalities with low rates of concrete and asphalt recycling are also forfeiting opportunities to help the environment by lowering fuel consumption and greenhouse gas (GHG) emissions associated with trucking new aggregate, diverting used aggregate from the waste stream, lessening the impact of quarry operations, and building more sustainable infrastructure.
The independent research conducted in July and August identifies the worst-performing municipalities in recycling aggregate. Some of them are:
Mississauga (at the bottom of the list with a score of 4 out of 100);
Oshawa (10);
Peel Region (14);
Durham Region (20); and
Niagara Region (32).
The best-performing municipalities are:
Toronto (at the top of the list with a score of 76);
Ottawa (54);
York Region (56);
London (58); and
Kitchener (58).
According to a statement issued by TARBA, only about seven per cent of the aggregate needed in Ontario comes from recycled sources. In contrast, some European countries use up to 20 per cent recycled aggregate. Ontario's Ministry of Transportation also employs about 20 per cent recycled materials in its highway construction.