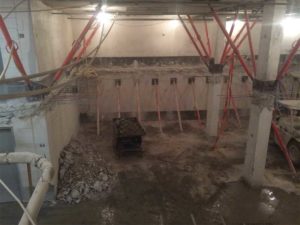 Figure 5 and the associated approximate costs are based on case study parking garage projects undertaken by RJC Engineers, the author's firm, in the Toronto market within the last six years. The case study projects used to obtain the costing data are all normally reinforced parking structures with membrane protection systems repaired or replaced as part of the project. Although parking structures with different framing systems and varied protection systems will have diverse repair and rehabilitation costs and timelines, the asset depreciation curve is similar.
On average, a new freestanding parking structure in Canada costs approximately $6.50 (above grade) to $16.50 or more (below grade) per square metre or approximately $25,000 to $65,000, or more, per stall to construct. Costs for new construction vary greatly depending on the structure's location (above or below grade), the structural system utilized (i.e. precast, cast-in-place, post-tensioned, etc.), site location, efficiency of parking (i.e. square metres per stall), and site-specific constraints/conditions. Given the costs to construct or replace the asset, repair and maintenance of the property in a timely fashion become critical. However, without a protection system installed on the structure, it will continue to deteriorate.
Protect and maintain
The Canadian Standards Association (CSA) S413, Parking Structures, which forms part of the building code, outlines various protection systems that can be installed on parking garages. Although a wide range of systems exist, it is important to note the use of a protection assembly is required. Broadly, there are four classes of protection systems: membranes, corrosion inhibitor, C-XL concrete, and sealer. The use of a membrane system is suitable for all types of framing systems. However, the use of any combination of corrosion inhibitor, C-XL concrete, and sealer is limited to only bonded post-tensioned, precast, and pre-tensioned structures.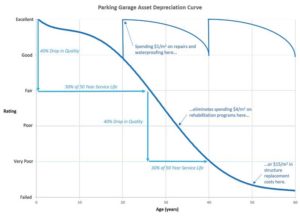 For a detailed comparison of the different types of membrane systems for concrete parking structures, refer to the article, "Waterproofing for concrete parking structures: A Comparison," published in the June 2018 issue of Construction Canada. In summary, different membrane technologies have varied rheological properties, which, in turn, lead to diverse resistances to damage, different effective service lives, and varying installation and maintenance costs. Given the number of waterproofing systems available, it is critical the designer know the system limitations prior to specification.
A maintenance program must be implemented to protect the asset repair or rehabilitation investment costs. Although the Canadian Parking Association Technical Bulletin No. 2: Parking Facility Maintenance Manual and CSA S413 are excellent resources for schedules of recommended maintenance, a maintenance schedule customized for the specific structure developed by an engineer in conjunction with the ownership team is strongly recommended. This customized maintenance program should include a schedule (i.e. monthly, quarterly, annually, or other) for reviews and specific maintenance items as follows: structure, moisture protection systems, parking control/security equipment, elevators, electrical systems, mechanical/plumbing systems, fire protection systems, surface finishes/line painting, cleaning, and snow removal.
Conclusion
There are limitless tools and techniques to repair and protect concrete structures. A team of design and industry professionals that know how to recognize a problem, evaluate it, design and implement a repair strategy, and maintain the structure in a state of good repair are the best asset an owner can have.
Given that on average a new freestanding parking structure in Canada cost approximately $25,000 to $65,000, or more, per stall to construct, undertaking a $1 per square metre repair and maintenance program, when the structure in good to fair condition, or a $4 per square metre rehabilitation program, when the structure is in poor condition, is capital spent well.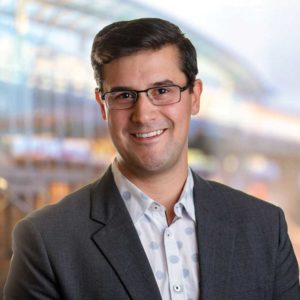 Nigel Parker, P.Eng., LEED AP, is an associate at RJC Engineers. He is responsible for managing projects from start to finish, including assessments, design, tendering, construction contract administration, and project close-out. Parker has spent his entire career in the fields of structure rehabilitation, repair, and new construction. He is also the former chair of the Canadian Society for Civil Engineering Toronto Section. He can be reached at nparker@rjc.ca.

Control the content you see on ConstructionCanada.net!
Learn More.