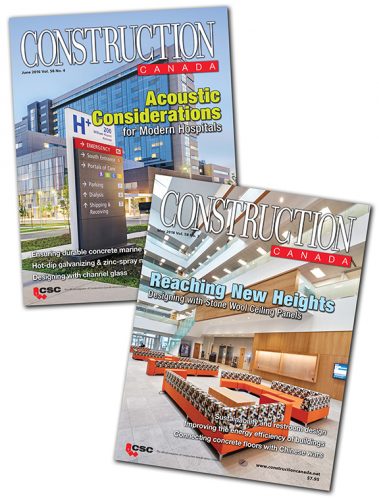 Every issue of Construction Canada brings you the latest on the materials and assemblies comprising the built environment, and how to work with them.  Cutting-edge case studies, technical overviews, and in-depth industry explorations offer best practices on how to select and design with products and systems, touching on codes, standards, and green building rating programs. Don't risk missing out on a single issue—renew your complimentary subscription today.
Our features cover everything from concrete foundations to vegetated rooftops, from the inner cores to outermost envelopes, and everything in between. Article topics range from masonry, steel, glass, and wood to access control, building information modelling (BIM), and lifecycle assessments (LCAs).
The official publication of Construction Specifications Canada (CSC), this national magazine has been uniting members of the design, building, and supply sectors for more than 50 years.  It is edited exclusively to meet the needs of architects, engineers, and specification writers in a manner that speaks the technical language of building design.
We would like to offer you a complimentary renewal subscription to Construction Canada. Simply click here to confirm your contact information.