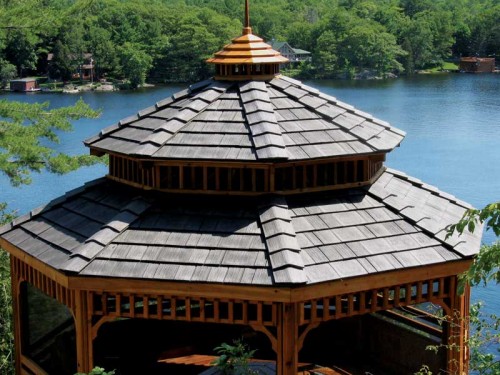 By Andrew Horsman
Tires are found on most construction sites—they are seen on the machinery and equipment used to bring building projects to life. What is not as well-known, however, is recycled tires can be incorporated into many aspects of the construction industry, benefiting the environment and the economy. Even architects and specifiers versed in sustainability may be unfamiliar with the role tires can have on building projects.
The tire industry has made it a priority to invest in the total lifecycle of products. Much of this work is about ensuring tires are properly recycled at the end of their life, so the materials can be reused to create a range of products, including:
playground surfacing;
athletic flooring;
roof shingles;
carpet cushioning and floor underlay;
rubber bricks used for walkways;
materials to replace concrete and fill driveways; and
rubber landscape stones and mulch for gardens.
Since many conventional products can be made increasingly durable by using rubber, it is often a pragmatic and easy solution to use recycled-tire rubber.
Finding a new use
When a tire is at the end of its service on a vehicle, it may still have a great deal of mileage left in terms of its overall lifecycle. Ontario Tire Stewardship (OTS), an industry-funded organization under the Ontario Waste Diversion Act, was founded in 2009, and operates the Used Tires Program in the province. (There are also other tire recycling programs across the country.) OTS' goal is to recycle every tire in the province of Ontario so none of these products are wasted by being dumped into landfills or illegally burned.
Considering the amount of tire-adorned equipment existing in construction, and the volume of tires building projects go through, the construction industry is a powerful and important source for tire recycling. To put this into perspective, an Institute of Scrap Recycling Industries (ISRI) report, "The Voice of the Recycling Industry," suggests recycling four passenger tires saves the equivalent amount of energy as 68 L (18 gal) of gas.
Additionally, based on data collected through tire recycling operations in North America, more than 90 per cent of a tire is reusable and recyclable, composed of non-biodegradable materials such as synthetic and natural rubber, oil, polyester, and steel.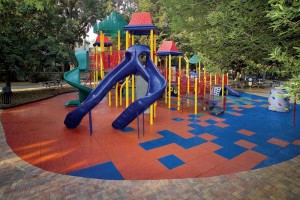 Improving projects with new products 
When tires are recycled, they are often broken down into crumb rubber, which is a key material for manufacturers to create new products. Before the process begins, the tires are dropped off at various collection sites and then picked up by registered haulers.
Once the tires arrive at the processor they are sorted by size and cleaned. When ready for recycling, the tires are put into shredding machinery and cut into smaller and smaller pieces. During this process, they are also sorted several times to ensure any fibres and metals are separated from the rubber itself. After the pieces of rubber are approximately 6.35 mm (1/4 in.) thick, they are packaged as crumb rubber. This material is then shipped to recycled-product manufacturers.
From roofing to flooring, builders can incorporate these products literally from top-to-bottom in projects. Products made from recycled tires can make flooring for outdoor projects—such as walkways, patios, and athletic floors—that have greater capacity to absorb noise and shock, and do not leach toxins. They are also suitable for the outdoor spaces in condo developments or office buildings.
For municipal and recreational projects, manufacturers are involved in tire collection, processing, and manufacturing. These companies produce products including driveways, running tracks, parking curbs, and tennis courts, all made from recycled tires.
Products made from recycled tire rubber also make athletic floors. Many of these products are easily installed and incorporate interlocking mats. Recently, a manufacturer worked with the Earth Rangers Centre for Sustainable Technology in Vaughan, Ont. (For more information about Earth Rangers Centre for Sustainable Technology, see the article, "Building Heavy with the Earth Rangers," by Andy Schonberger, P.Eng., MBA, LEED AP, and Scott Tarof, PhD, in the April 2012 issue of Construction Canada. To read, visit www.constructioncanada.net and select "Archives.") When Earth Rangers was building a gym facility for its employees, they used the athletic flooring from recycled tires for its safety features and durability—the product is also slip-resistant when wet or dry. It provides a great base for employees to work out on, and fits well in such an environmentally focused organization.
Indoor applications
On top of adding green products to exterior building, landscaping, and construction projects, builders can also use tire-derived products indoors. Apart from the athletic flooring mentioned, a flooring underlay can also be employed as an impact sound insulator. Since sound insulation is important for television programming, the product was recently used in Toronto's Corus Entertainment Centre under various floor coverings in the company's multi-storey building.
An underlay reduces sound transmission and is particularly useful in multi-level buildings requiring sound insulation between floors. There are often minimum Impact Insulation Class (IIC) and Sound Transmission Class (STC) requirements that a building must meet. The IIC measures the impact sound that travels between floors, and the STC measures airborne sound that is transferred through floors and ceilings by noises. The product used in the Corus building provides sound-proofing for daily filming.
The recycled-rubber products designed for indoor application, such as the flooring underlay at the Corus building, are formulated and tested to confirm they meet Carpet and Rug Institute (CRI) indoor air quality (IAQ) guidelines.

Control the content you see on ConstructionCanada.net!
Learn More.