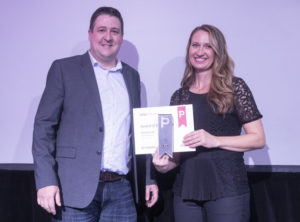 P3Architecture Partnership wins the 2019 Premier's Awards of Excellence in Design–Architecture by the Design Council of Saskatchewan (DCS) for its Christ the Redeemer Church project in Swift Current and the College Avenue campus of the University of Regina.
The awards recognize the applied design work being done in the province. Entries were required to be designed by a Saskatchewan resident and completed within the two-year period prior to Saskatchewan Design Week. Projects undertaken outside of the province by eligible Saskatchewan designer(s) were also considered.
Christ the Redeemer Church is adapted to the existing site at the edge of the community between built and natural environments, providing the parish with an inspiring context of the surrounding prairie landscape.
The College Avenue campus renewal involved an extensive renovation of the original college building and tower. It also provided additions on the west and east sides of the campus.
The 'Award of Merit' went to KSA Group Architecture for their 301-1st Avenue North project. Henry Downing Architects received an 'Honourable Mention' for Jim Pattison Children's Hospital along with Kindrachuk Agrey Architecture for their Skyxe curbside expansion project.