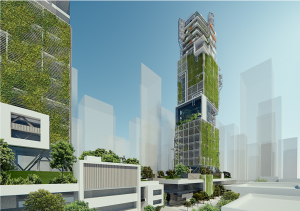 The 2014 Symbiotic Cities International Design Ideas Competition, "Urban Transformations: Designing the Symbiotic City," is now open for submissions.
Sponsored by Canadian firm DIALOG, the contest challenges planners, designers, architects, and engineers to transform their cities to be more regenerative, climate-adaptive, and symbiotic places.
Participants are asked to use diagrams, as well as 2D and 3D drawings, accompanied by an explanation for their designs. The design submissions should focus on environmental issues facing cities and changing destructive urban systems into regenerative ones.
"Over the next 25 years, cities and the ecosystems they are an integral part of, face enormous challenges," said Dialog principal Craig Applegath. "The Symbiotic Cities International Design Ideas Competition is intended to generate critical thinking and discussion around these critical issues."
Submissions will be judged by a panel of industry experts and are being accepted until September 21. Click here for more information.