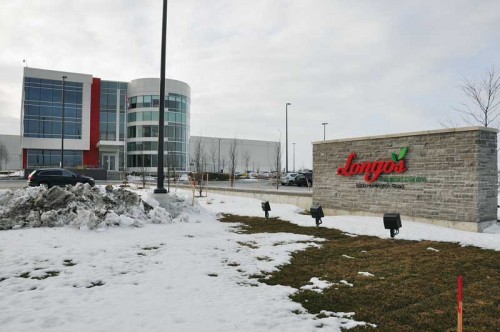 The cost-effective and environmental benefits of incorporating a glycol system on the retail side of Longo's Supermarkets made the decision to use the same in its new distribution centre an easy one.
It is also one of the design elements the Vaughan, Ont., company is using to achieve Gold under Canada Green Building Council's (CaGBC's) Leadership in Energy and Environmental Design (LEED) system.
In addition to reduced refrigerant charge and operating costs, employing the proprietary glycol system in the warehouse offered benefits like increased usable warehouse space, and improved system redundancies, as well as decreased installation, capital, and maintenance costs.
"We started using glycol three or four years ago in the stores and have become more and more comfortable with [it] as a refrigeration medium," says Paul Collette, project manager, real estate and construction for Longo's.
Design professionals have traditionally incorporated ammonia-based and synthetic refrigerant systems for large commercial and industrial facilities, such as cold storage warehouses, distribution centres, and ripening facilities. However, code restrictions on ammonia-based systems often require full-time engineers be onsite for safety and other operational reasons. In addition, synthetic refrigeration systems necessitate use of large amounts of synthetic refrigerants, which are costly to install and increasingly regulated.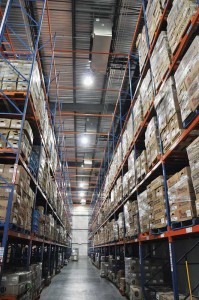 A glycol system is one alternative gaining acceptance for commercial and industrial applications.
One of Longo's main goals was to maximize use of space in the distribution centre for warehousing product. To do so, the decision was made to incorporate a mechanical centre configuration, eliminating the need for a conventional compressor room.
A certain proprietary glycol system allows for larger, though fewer, evaporators/air units that can reduce capital costs and long-term maintenance in comparison to a similar-sized direct expansion (DX) system. Additionally, redundancy is built in, given its use of a parallel or multi-compressor system. In contrast, traditional DX systems do not have redundancies.
The glycol system's ability to use 100 per cent of the evaporator/air unit as opposed to DX's 90 per cent usage with superheat can result in reduced pull-down times—a benefit Longo's has enjoyed at its retail stores.
The specification of two glycol systems comprising two medium-temperature racks and two glycol pump stations each in the Longo's warehouse allows for 185 tonnes of refrigeration for more than 5203 m2 (56,000 sf). A conventional low-temperature rack is also included in one of the units.
Recycling waste heat from the refrigeration racks provides further energy efficiency. Waste heat used to warm glycol is circulated through pipes underneath the freezer to keep the ground from freezing and heaving. In addition, the same waste heat process is used to pre-heat air for the office space.

Control the content you see on ConstructionCanada.net!
Learn More.