As the 20th anniversary of the project approaches, PCL Construction is looking back at the role it played in the making of a Toronto landmark. Before the Air Canada Centre (ACC) was home to the Toronto Raptors and Toronto Maple Leafs, it was a vacant postal delivery building.
In 1996, the National Basketball Association (NBA) purchased what is now the ACC building from Canada Post with the intention of renovating it into the entertainment centre it is today. One year later, the owner, Heritage Toronto, and the City of Toronto developed an agreement to preserve the building's heritage (e.g. by leaving two building façades intact, creating displays on the space's history, etc.). The building was set to be delivered March 1, 1999, at the culmination of a 24-month schedule—which only became tighter as the construction progressed.
Halfway through the construction, the project underwent a significant shift. Larry Tanenbaum purchased the Raptors and the ACC in 1998, forming the Maple Leaf Sports & Entertainment Company (MLSE). Tanenbaum introduced a plan to make the centre home to both the Raptors and the Maple Leafs, ultimately increasing the value of the remaining construction by 25 per cent.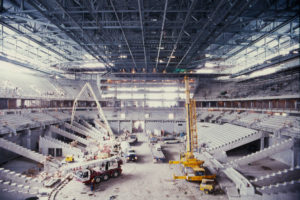 The final project featured:
60,387 m2 (650,000 sf) of arena space;
a 15-storey tower;
four restaurants;
a galleria;
concession stands; and
underground parking able to accommodate 212 vehicles.
Despite the fact the project's schedule was not modified to reflect Tanenbaum's changes, PCL's general superintendent, Oscar Gaudet, was unfazed.
"We'll be able to meet the original schedule because we're an experienced builder," said Gaudet in 1998. "We roll with the punches. Everyone is pulling together—to get the drawings, to get the product, to get the work done."
As it turns out, Gaudet's confidence was not unfounded. The project was completed not just on time but nine days ahead of schedule, on December 30, 1998. Opening celebrations were conducted throughout February 1999. The centre hosted its first National Hockey League (NHL) and NBA games on February 20 and 21, with Toronto taking victory in both cases, and its first concert (featuring the Tragically Hip) on February 22.
Other members of the project team included Brisbin Brook Beynon Architects (architect of record), HOK Sport (consulting architects), Clarendon Projects Ltd. (project manager), and Yolles Partnership (structural engineering).