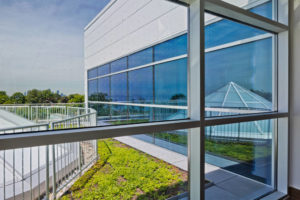 Privacy and views may seem mutually exclusive when it comes to glass, but the BioSteel Centre—a training facility for the Toronto Raptors—balances both in its façade. Designed by Guernsey, the 6317-m2 (68,000-sf) centre prioritizes not only those concerns, but also bird safety and energy efficiency.
To accomplish these goals, the design team incorporated several varieties of glass. Tinted glass was combined with a bird-deterring variety to ensure esthetics, providing a pale blue colour visible from the exterior of the building. The glass also does not interfere with views from the interior, allowing players and staff to see nearby Lake Ontario without interruption.
The configuration of these two varieties is what ensured the target energy efficiency levels were achieved. The glazing is incorporated as triple-pane insulating glass units (IGUs), featuring solar control low-emissivity (low-e) glass as well. This means the facility's glazing offers:
20 per cent exterior reflectance;
27 per cent visible light transmittance (VLT);
a solar heat gain co-efficient (SGHC) of 0.21; and
a winter nighttime U-value of 0.17.
These features reduce exterior conditions' ability to infiltrate the facility, reducing the load on heating and air-conditioning systems and thus saving energy. However, interior concerns were not the team's sole priority.
Bird deterrence was achieved with patterned glass. With suggestions from bird researchers, the bird-friendly glass used for the IGUs features a particular dot pattern. Not only does this pattern offer human occupants privacy from the outside, but it also protects birds, because they are able to recognize it as a barrier—unlike more traditional glass façades, with which birds can often collide.