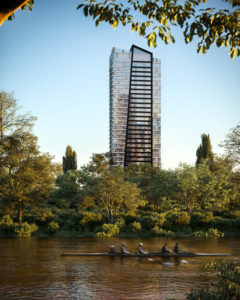 Montréal-based developer Broccolini is constructing LeftBank, a 34-storey high-rise condominium along the Don River in Toronto.
Designed by architecture firm IBI Group, the building is inspired by the natural topography of the River District. LeftBank's exterior is reminiscent of a ship's mast, paying homage to the storied past of the Don River.
With LeftBank, Broccolini seeks to exemplify a new vision for the emerging River District in city's Downtown East and create a new architectural edge for future recreation activities on the Don River and Trail, the developer said in a press release.
"The River District in Toronto's Downtown East stood out to us right away as the perfect urban location to lay our roots in the GTA. It fit our vision for the kind of community we wanted to create that had both urban necessities and easy access to outdoor recreation," said Phil Brennen, vice-president of real estate development, Broccolini. "While you are minutes from the hustle and bustle of downtown's financial district, there is this serene natural beauty and calmness you get from being adjacent to the surrounding ravine, trails, and water."
Once completed, LeftBank will appear to be rising from the Don. The tower will include 388 residential units. As Broccolini's second project in the River District, LeftBank prioritizes building new community infrastructure for the neighbourhood with widened, tree-lined streets, boutique retail spaces designed to host cafes, mom-and-pop shops, and other services. Through a new pedestrian walkway that links the community to the nearby Bayview Avenue, residents will be able to seamlessly connect to the Don Valley River Trail and navigate to neighbouring green spaces.
LeftBank's amenity program spans more than 1394 m2 (15,000 sf) of indoor and outdoor spaces. Highlights include an outdoor terrace with views of the east waterfront, co-working space, kid's room, speak easy, fully equipped fitness studio, gaming lounge, tool annex, and pet spa.