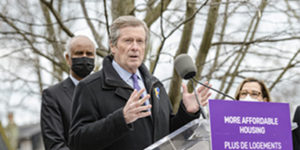 The City of Toronto has received $440 million from the Canadian government's Rapid Housing Initiative (RHI). This funding will help construct more than 1000 new homes and create thousands of jobs for citizens in need.
In the first round of funding, the city received more than $238 million to construct over 650 new affordable homes for those most vulnerable. Through the second round of RHI support, the Government of Canada allocated $201.5 million to build more than 420 new affordable homes for individuals and families in Toronto.
These investments will also create thousands of jobs in the housing and construction sectors, grow the middle class, and build back stronger communities with the goal of eliminating chronic homelessness. The new housing units will support Canadians who are in uncertain housing situations, are experiencing or at risk of homelessness, or are living in temporary shelters.
"Every Canadian deserves a safe and affordable place to call home," says Ahmed Hussen, minister of housing, diversity, and inclusion. "Our government's funding through the Rapid Housing Initiative is resulting in the quick creation of over 1000 homes for individuals and families in need in Toronto. Through the National Housing Strategy, we will continue to support Canadians in need and ensure no one is left behind."