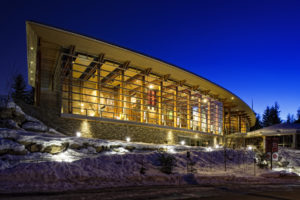 The Royal Architectural Institute of Canada (RAIC) has produced a free, public document on best practices for working with Indigenous communities on architectural projects.
The report "Four Case Studies Exemplifying Best Practices in Architectural Co-design and Building with First Nations" is a resource for architects, designers, clients, funders, and policy-makers involved in the creation of new infrastructure facilities and housing in First Nation, Inuit, and other Indigenous communities.
"The RAIC is delighted to share this original content and we hope insights from these studies can inspire communities and help shape government funders' policies and practices," said RAIC president Michael Cox, FRAIC. "The RAIC and the RAIC Indigenous Task Force believe architecture is a public-spirited profession with an important role in reconciliation—addressing injustices by giving agency back to Indigenous people. The case studies are also a reminder the process of listening—and learning—from users in the shared process of design is an essential part of what we do as architects."
Co-design is a collaborative design process between Indigenous communities and architects. In the four case studies, the vision of the community was articulated and developed through working with architects who listened. The resulting building designs were anchored in Indigenous peoples' connection with the natural world and reflected who they are as people—their traditions, culture, values and lifestyles, and their aspirations.
The report profiles the following projects:
Emily C. General Elementary School and IL Thomas Elementary School at Six Nations of the Grand River, Ont., and designed by Brian Porter, MRAIC;
Squamish Lil'Wat Cultural Centre located at Squamish and Lil'Wat First Nations, British Columbia, and designed by Alfred Waugh, MRAIC;
Quilakwa Centre at Splatsin te Secwepemc First Nation, British Columbia, where Norman Goddard was the architect and Kevin Halchuk the designer; and
Pilot Nunavik Duplex at Quaqtaq, Nunavik, Québec and designed by Alain Fournier, FIRAC.
The RAIC initiated the case studies following the success of the RAIC International Indigenous Architecture and Design Symposium in Ottawa last year. The report serves as an extension of the knowledge shared at the symposium by speakers from across Canada, New Zealand, Australia and the United States who presented best practices in co-design with Indigenous communities and clients.