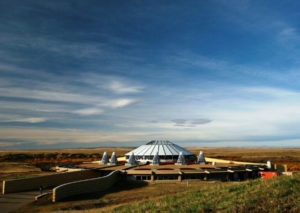 Earlier this fall, the Royal Architectural Institute of Canada (RAIC) released a highlights report of the first RAIC International Indigenous Architecture and Design Symposium. The 56-page illustrated report summarizes the presentations of more than 20 Indigenous architects, designers, and other professionals as well as students and interns from across Canada, the United States, Australia, and New Zealand.
According to RAIC, the purpose of the project is to foster and promote Indigenous design and architecture in rural, Métis, and northern communities, First Nations, and urban spaces, and to advocate with and on behalf of Indigenous communities. The symposium's theme was reconciliation, place-making, and identity.
"Too often First Nation, Métis, and Inuit capital projects are designed with minimal community involvement, and ultimately fail to meet community objectives for this reason," said Dr. Patrick Luugigyoo Stewart, chair of the RAIC Indigenous Task Force. "We need Indigenous architects, designers, and designs that will create long-term relevance, exemplify a respectful cultural and economic, and environmental responsibility to sustainable development, and consider the reciprocal well-being and quality of life of the people."
Presenters spoke about a variety of design and other issues facing Indigenous communities across Canada and internationally. Overarching themes emerged, such as the inclusion of local Indigenous communities in the design process, incorporation of traditional design elements, the preservation of culture, and remembrance of history.
Among the presenters were Vancouver architect Alfred Waugh, a member of the Fond Du Lac (Denesuline) Nation of northern Saskatchewan, who spoke about cultural sensitivity and environmental responsibility.
Harriet Burdett-Moulton, a Nova Scotia-based Métis architect with Inuit roots, described the importance of consultation with Indigenous communities when designing buildings so that the identity of the population is reflected in the final product.
The symposium took place in May 2017, at the Wabano Centre for Aboriginal Health, Ottawa, in conjunction with the RAIC annual architecture festival.