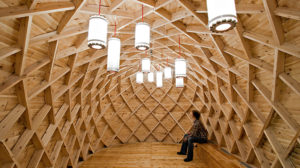 The Royal Architectural Institute of Canada (RAIC) has announced the 2019 recipients of the Young Architect, Architectural Firm, and Emerging Architectural Practice awards which recognize excellence in architecture, service to clients, and contributions to the profession, education, and community.
The Young Architect Award is given to architects 40 years or younger for excellence in design, leadership, and service to the profession. The award is intended to inspire architectural graduates to become licensed and to strive for excellence in their work. This year's winners are Ken Borton, MRAIC, of Winnipeg, Man., and Jessie Andjelic, MRAIC, of Calgary, Alta.
The Architectural Firm Award acknowledges the achievements of a firm for its quality of architecture, service to clients, and innovations in practice. It also considers the firm's contribution to architectural education and professional organizations, as well as public recognition. Toronto-based LGA Architectural Partners is this year's award recipient.
The Emerging Architectural Practice Award was given to UUfie of Toronto. This award recognizes the principals of an emerging practice that has consistently produced distinguished architecture. It also acknowledges the quality of built work, service to clients, innovations in practice, and public recognition.
The annual awards will be presented at the RAIC Festival of Architecture in Toronto, taking place October 26 to 30.