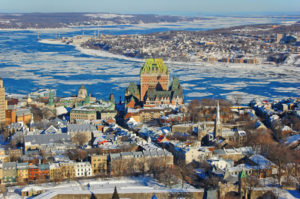 The construction of the 10,000-m2 (107,639-sf) Maison de Lauberivière building will start in March in Québec City.
The building will have seven floors and feature 149 units for people in difficulty as well as communal spaces and service offices. The project will require nearly $32.5 million in investments.
Andrée Laforest,  Québec's municipal affairs and housing minister, confirmed the Société d'habitation du Québec (SHQ) will provide a grant of more than $20.5 million for the project. The SHQ is also securing the loan taken out by the Lauberiviève organization.
Jean-Yves Duclos, minister of families, children, and social development, announced a contribution of close to $4.4 million.
"The National Housing Strategy has an ambitious goal of reducing chronic homelessness in Canada by at least 50 per cent," said Duclos. This wonderful project in Québec is a concrete step in the right direction."
Québec City mayor, Régis Labeaume, has confirmed close to $5.3 million for the construction of the building.
The Maison de Lauberivière is expected to be complete in January 2021.