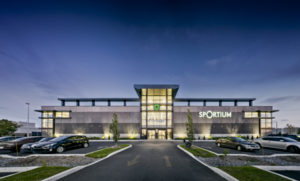 The Sportium is one of the largest sports stores in Québec. The disciplines of cycling in summer and cross country skiing in winter are found on the 4645-m2 (50,000-sf) main floor. The 1858-m2 (20,000-sf) upper mezzanine contains hockey, soccer, tennis, baseball, bodybuilding, and yoga.
Designed by Indesign Inc./Conrath Architecte, the spatial and material attributes of Sportium stem from the sporting world, such as stadiums, sports fields, and athletes. The building is conceived to stand out from the conventional retail architecture of commercial sites. With a projecting roof canopy, the 12-m (40-ft) high central atrium signifies the building entrance and is prominent both from outside and within.
Full-height concrete panels weighing  13,608 kg (30,000 lb) are mechanically connected to the steel structure. The exterior texture, the insulation core, wiring conduits, and openings for windows and doors are pre-calculated and incorporated into the panels during the moulding operation. The sandblast treatment creating the interior finish completes the fabrication process.
The Sportium design is created as a progression of scale with a white steel building structure comprised of large tube columns, beams, and cross braces. These elements define the primary spatial rhythm within the 9-m (30-ft) high volume where the central atrium is. Inscribed within this primary scale is the secondary modulation composed of a tubular system inspired by a goalpost. The metal components of this system are fabricated and assembled using methods and technology kindred to that of the primary building structure, producing a conceptually coherent design both visually and physically.
Most prominent in the Sportium concept are the ingredients of luminosity and fluidity. The central atrium and large corner windows allow daylight to inundate the interior, while allowing the interior to resonate outside at night. Consideration was given to the balance of natural illumination and light-emitting diode (LED) lighting to ensure visual comfort and a positive spatial experience. The flooring materials of grey and white alternate to contribute an effect of light and shadow while, referencing the linear markings of sports fields and courts.