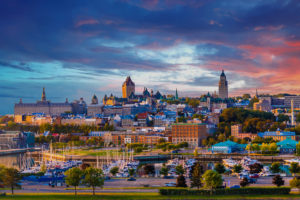 As the challenges due to the COVID-19 pandemic continue to shift, provinces are taking measures to slow the transmission of the virus.
Québec has ordered the closure of all non-essential services including a majority of construction activities.
Only construction "related to public and private infrastructure that may pose a threat to public health and safety (private dams, the management of hazardous and radioactive materials, and so on) is permitted."
Construction firms for emergency dispatching or security purposes and electricians, plumbers, and other trades for emergency services are deemed essential, and can continue operations.
In an interview to CBC, a spokesperson for the province's largest federation of construction unions, FTQ-Construction, said, "We are happy and support, without reservation, the premier's decision."
Earlier, both FTQ-Construction and the Conseil provincial du Québec des métiers de la construction wrote to Premier François Legault asking him to temporarily close all construction sites because of the COVID-19 pandemic.
They asked the premier to "intervene immediately" to protect the workforce, leSoleil reported. Additionally, they wrote that many sites do not have soap and water for handwashing and toilets with running water, and their members often work in close quarters, moving frequently between sites and sharing their tools.