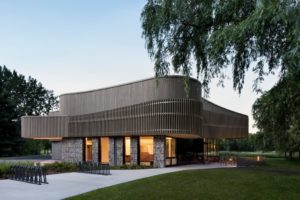 The Îles-de-Boucherville National Park in Québec is now equipped with a new discovery and services centre designed by Smith Vigeant Architectes, and entirely made of local wood.
The 510-m2 (5490-sf) building's undulated edges were carefully placed to minimize tree cutting. A succession of wooden slats overlaps the siding all around the building. This cladding also acts as a light filter. Inside, a curvy channel-like recess on the ceiling and a skylight bring in natural light and enhance natural ventilation. The architectural composition is tied together by a glass curtain wall offering direct views of the park from the inside and reflecting nature on the tinted glass outside.
The discovery centre was recognized by the Canadian Green Building Awards 2018, the Canadian Wood Council's Wood Design and Building Award 2017, the American Architecture Prize 2017 and won the Sustainable Development Award and Use of Wood Award at the Grands Prix du Design 2018.