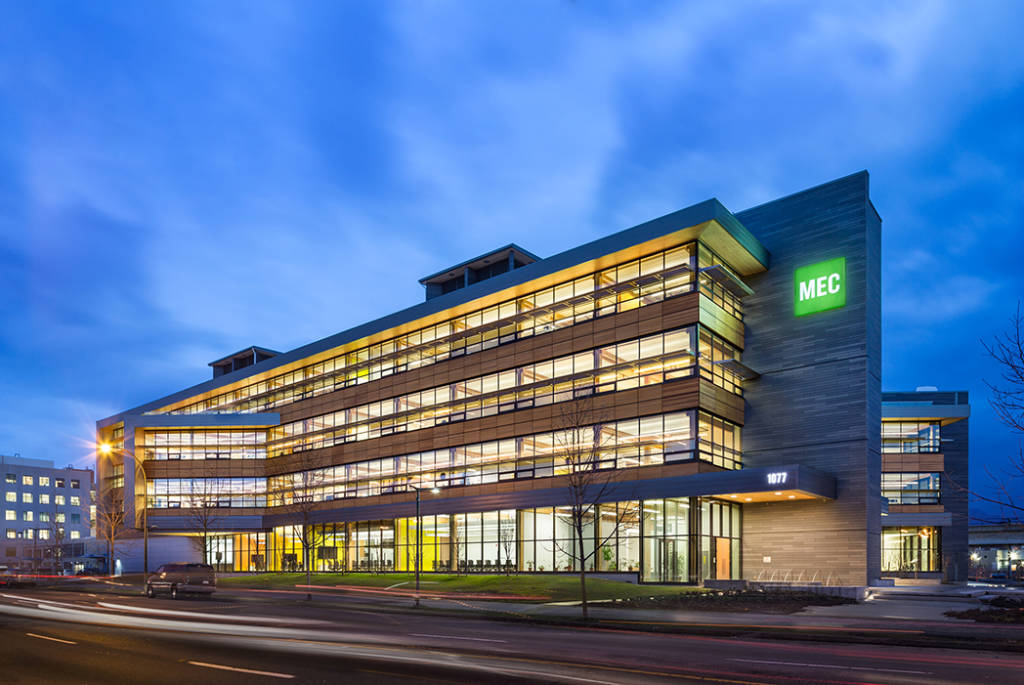 The American Society of Heating, Refrigerating and Air-conditioning Engineers (ASHRAE) distributed its annual awards during the 2018 Winter Conference in Chicago.
The Technology Awards celebrate society members who have successfully applied innovative building designs incorporating ASHRAE standards for effective energy management and indoor air quality (IAQ) and also serve to communicate innovative first systems design.
Based in Montréal, Pageau Morel et Associés received first place in the commercial buildings division of this category for the construction of the Mountain Equipment Co-op (MEC) head office in Vancouver. Last November, the 10,152-m2 (109,275-sf) building achieved Platinum certification under the Canada Green Building Council's (CaGBC's) Leadership in Energy and Environmental Design (LEED) New Construction (NC) program. The office integrates a series of energy efficiency and sustainable development measures, including wind-assisted hybrid natural ventilation, abundant fenestration with triple-glazed windows and motorized blinds, as well as a grey-water recovery system for toilets. These sustainable measures offer a reduction in energy consumption of around 43 per cent.
This is Pageau Morel's second award for this project. In 2017, the firm received an Énergia Award from the Association québécoise pour la maîtrise de l'énergie (AQME).
The remaining Technology Award recipients are:
Jonathan R. Rumohr and Jesse Hendershot (recipients of the Award of Engineering Excellence) in the category of existing educational facilities—Heritage Hall Alumni Center at Western Michigan University;
Mark C. Hersch and Holly M. Stevens (MODUS) in the category of existing commercial buildings category—Market One LLC, Des Moines, IA;
Raymond L. Beaufait (CMTA Consulting Engineers) in the category of new educational facilities—Discovery Elementary School, Arlington, VA;
Steven T. Taylor, David Heinzerling, Allan Daly (Taylor Engineering), and Todd Gottshall (Western Allied Mechanical) in the category of new other institutional buildings—San Francisco Museum of Modern Art, CA;
Eric Michael Fullerton, Adam M. McElderry, and Andrew Jester (Bernhard TME) in the category of health care facilities existing building commissioning—Pineville Enterprise Energy Management Phase 1, Charlotte, NC; and
Samuel Paradis and Yves St-Georges (SNC) in the category of new public assembly— Amphithéâtre Multifonctionnel de Québec (Centre Vidéotron), Québec City, QC.
To view a complete list of winners, click here.
In related news, ASHRAE recently announced a new online portal designed to create easy access to resources related to the society's Standard 90.1, Energy Standard for Buildings Except Low-rise Residential Buildings. Updated features offers users access to up-to-date resources in one consolidated location.
"ASHRAE Standard 90.1 is used globally as an industry benchmark for setting minimum energy performance standards and energy codes," says Drake Erbe, ASHRAE Standard 90.1 committee chair. "Bringing all 90.1-related resources together in one location will empower building professionals to focus more on delivering energy efficiency requirements, knowing they have access to the most current Standard 90.1 information."
To access the portal, click here.