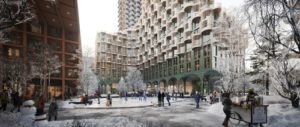 Waterfront Toronto has begun negotiations for plans to develop the Quayside site in the city's downtown area. Dream Unlimited Corp. (Dream) and Great Gulf Group, known as Quayside Impact Limited Partnership, have been selected to transform the 5 ha (12 acre) site into a community for residents and visitors to live, work, and play.
Among the highlights of the winning submission were proposals to create:
More than 800 affordable housing units, doubling the affordable housing Waterfront Toronto has brought to the waterfront, with many delivered in earliest stages to address an urgent need;
New public spaces, including a 0.81 ha (2 acre) forested green space, plus a significant urban farm atop one of Canada's largest residential mass timber buildings;
A landmark cultural destination and multi-use arts venue that brings together space for the performing arts, Indigenous-centered cultural celebrations and education spaces;
Exemplary low-carbon development and innovations, making Quayside the first all-electric, zero-carbon community at this scale; and,
Architecture that will raise the bar on design across the entire neighbourhood and create a visually striking focal point on Toronto's waterfront.
In addition to the lead developers, the project design team will also include world-class architects and expert local partners including The Bentway, Centre for Social Innovation, Crow's Theatre, George Brown College, Rekai Centres, and WoodGreen Community Services.
Waterfront Toronto and Quayside Impact Limited Partnership will now negotiate a project agreement. Negotiations are expected to be completed by fall 2022. More information will be shared with the public as Waterfront Toronto and Dream and Great Gulf Group work to finalize the development plans, seek municipal approvals, including development approvals, and bring the community to life.