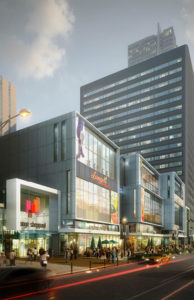 Canadian architecture and interior design practice Quadrangle has formed a partnership with UK-based BDP, aiming to create a platform for broadened international growth and expertise.
BDP has made a strategic investment in the Toronto-based firm. Quadrangle will lead Canadian operations and BDP's North American expansion.
"BDP's collective grouping of professions design with a progressive outlook and a sensibility toward the creation of a sustainable and human environment," said John McManus, chief executive of BDP. "We are confident that our culture and ethos will be greatly enhanced by the addition of Quadrangle."
Quadrangle is currently completing the Yonge-Sheppard Centre, a large, mixed-use development in north Toronto. Quadrangle is also working on a large-scale mixed-use development featuring retail, housing, office, and hospitality in downtown Markham, Ont.
"We are incredibly excited to join BDP," said Anna Madeira, executive principal at Quadrangle. "This partnership infuses our business with greater expertise, services, and resources that we can offer to our clients, and it enables us to provide our staff with increased opportunities to work on diverse projects."
BDP is currently providing full inter-disciplinary design services to restore and safeguard the future of the Palace of Westminster, the seat of the UK's Parliament. In Toronto, BDP has designed a three-level retail podium for real estate firm RioCan at the Well, a large, mixed-use commercial development that is now under construction.