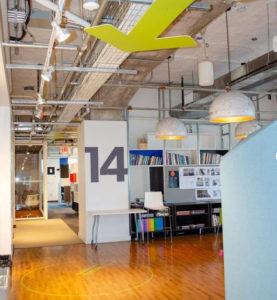 Architecture firm Quadrangle  has changed its title and is now operating under the name BDP Quadrangle.
The name builds on the partnership Quadrangle formed in 2019 with United Kingdom-based global architecture, design, and engineering firm BDP, establishing Quadrangle as BDP's North American headquarters.
The new name retains Quadrangle's 35-year history and reputation, while also conveying their position as part of BDP's network of 1300 professionals collaborating across studios in the United Kingdom, China, India, Ireland, the Middle East, the Netherlands, and Singapore, the firm said in a press release.
"We joined BDP to expedite our expansion into new geographies and sectors and also to enhance our practice with access to new skills, design services, and thought leadership," said Anna Madeira, BDP Quadrangle's executive principal. "Recognizing that client needs are becoming increasingly multidimensional and international, our name now indicates how we are able to seamlessly address projects across greater industries and boundaries."
"What brought us together was a desire to expand our reputation and strengthen our business with presence into the North American market" said John McManus, BDP's chief executive. "Now, working together, we are globally diversifying our expertise, embracing a higher calibre of design and professional rigor. We look forward to furthering the impact that we will achieve together."
According to Quadrangle co-founding principal, Les Klein, "Already we have found that this partnership has enhanced the ambition and diversity of our work. With this step we are underscoring the constant evolution and drive for improvement that has always characterized our studio. We believe that our growth with BDP will strengthen the way we think about and practice architecture, design and urbanism in the future."