Provencher_Roy's transformation injects new life into Montreal's heart
by arslan_ahmed | October 25, 2022 5:55 pm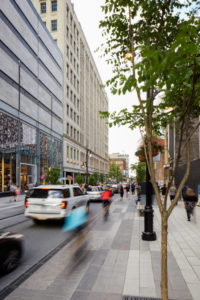 Provencher_Roy, as urban planner, has transformed Montreal's Sainte-Catherine St. West from a rundown and car-centric stretch into a sprawling promenade where cars, cyclists, and pedestrians share the road.
Stretching six blocks between De Bleury and Mansfield Streets, the promenade has turned the four-lane road into a pedestrian-oriented track⁠—with a single lane for car traffic, bordered by the historic department stores running along its stretch. The Phillips Square has been expanded as well, making the area a new, green public hub for the City of Montreal, which aims to position Montreal as the greenest city centre in North America.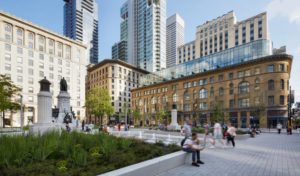 The project increases vegetation by 46 per cent and plants 14 times the number of current trees. Provencher_Roy devised a greening strategy to include five tree varieties chosen for their tolerance to urban pollution and their resilience. Newly laid pavement features modular paving to mark different spaces and their uses. Ranging from dark grey to light grey, the paving informs pedestrians about the vehicular lane or the pedestrian zone.
New street furniture by renowned Quebecois industrial designer, Michel Dallaire, lends the promenade a visual identity and creates spaces for people to relax, socialize, and take in the energy and history of the street. Dallaire's work is present throughout Montreal, including the Quartier international and Peel Street, tying this area to the rest of the Ville-Marie borough.
Another partner in the project is CIMA +, who provided civil, mechanical, and structural engineering.
Endnotes:
[Image]: https://www.constructioncanada.net/wp-content/uploads/2022/10/PR_STE-CATHERINE_CREDIT-–-ADRIEN-WILLIAMS_001.jpg
[Image]: https://www.constructioncanada.net/wp-content/uploads/2022/10/PR_SQ-PHILLIPS_CREDIT-–-ADRIEN-WILLIAMS_010.jpg
Source URL: https://www.constructioncanada.net/provencher_roys-transformation-injects-new-life-into-montreals-heart/
---