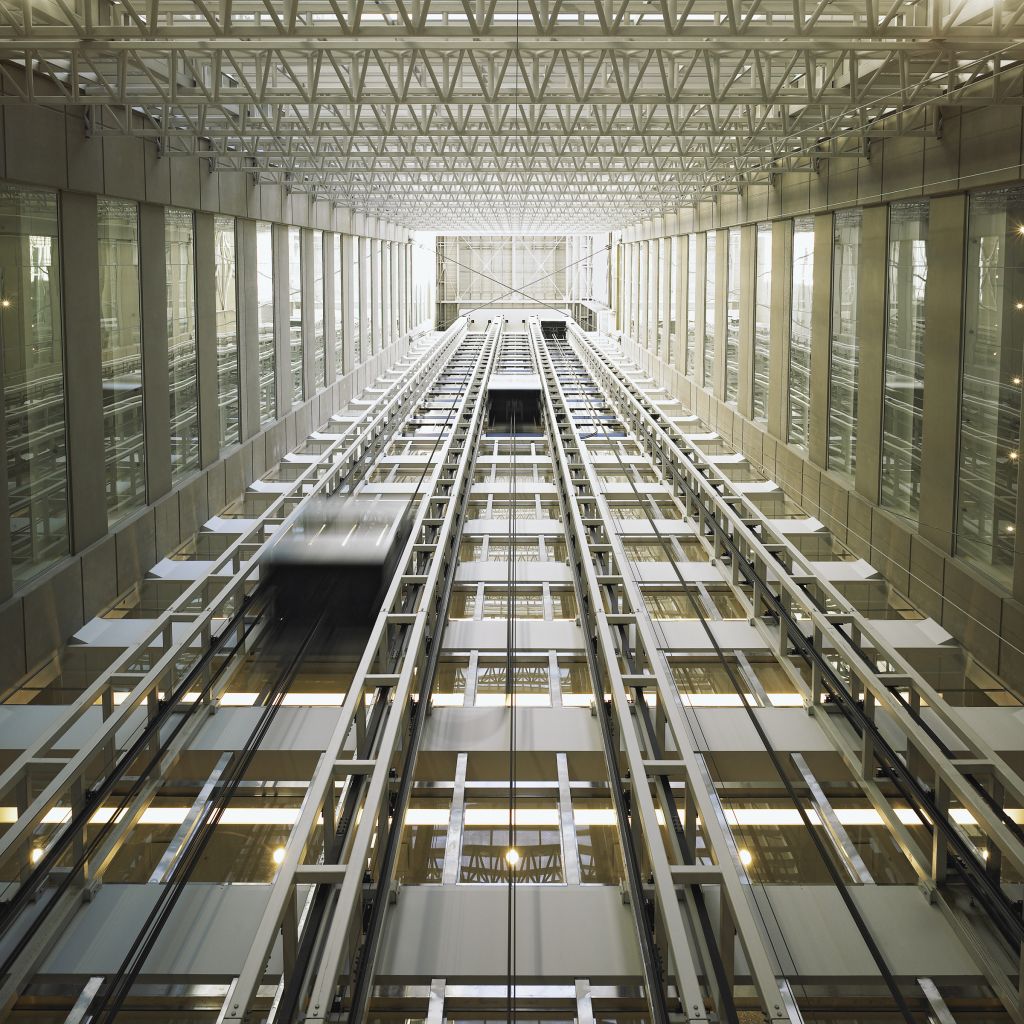 By Teresa Sims, BCom, Bill Chomik, AAA, MAIBC, FRAIC, Hon. FAIA, RCA, and Lois Wellwood, BID, NCIDQ, ARIDO, IDA, IDC
Courthouse design has traditionally been thought of as an exercise in expressing solemnity, stability, and fairness. Guidelines for esthetics, security, adjacency, circulation, barrier-free access, mechanical/electrical systems, and automation, means little design flexibility has historically been commonplace. However, in the past decade, it has become evident courthouse planning and design has undergone a shift in the way buildings are conceptualized and constructed. Driving forces such as the changing environmental and economic landscapes are creating a trend in North America where courthouses incorporate sustainable building practices and innovative design.
An example of this is the $300-million Calgary Courts Centre (CCC) urban park and parkade, which was completed in two phases in 2009. The only Canadian courthouse combining federal and provincial justice systems, the CCC has embraced transparency, public space, circulation, flexibility, and sustainability as key design drivers.
Designed by Kasian Architecture Interior Design and Planning Ltd., in conjunction with a multidisciplinary consultant team including architectural support from NORR and Aecom, the multi-award winning Calgary Courts Centre has become an exceptional symbol of the progressive justice system in Canada. It is also certified under the Leadership in Energy and Environment Design (LEED) rating program.
Sustainable Justice 2030, a white paper published by AIA Academy of Architecture for Justice, proposes key strategies for the justice system's role in contributing to the continuing viability of society. The white paper uses LEED's New Construction (NC) and Neighborhood Development (ND) standards as points of reference to establish five strategies for sustainable courthouse design:
justice system: locate close to other justice components to reduce travel distances;
community: locate facilities proximate to public transportation and downtown districts, services, and civic centres;
building: design the structure to be flexible and energy conserving;
user: introduce natural light into all occupied spaces and make the courthouse pedestrian friendly; and
environment: reuse existing facilities wherever possible.
Accordingly, this article explores these sustainable strategies in relation to the construction of the Calgary Courts Centre, demonstrating how the facility has become a modern benchmark for forward-thinking courthouse design and sustainability.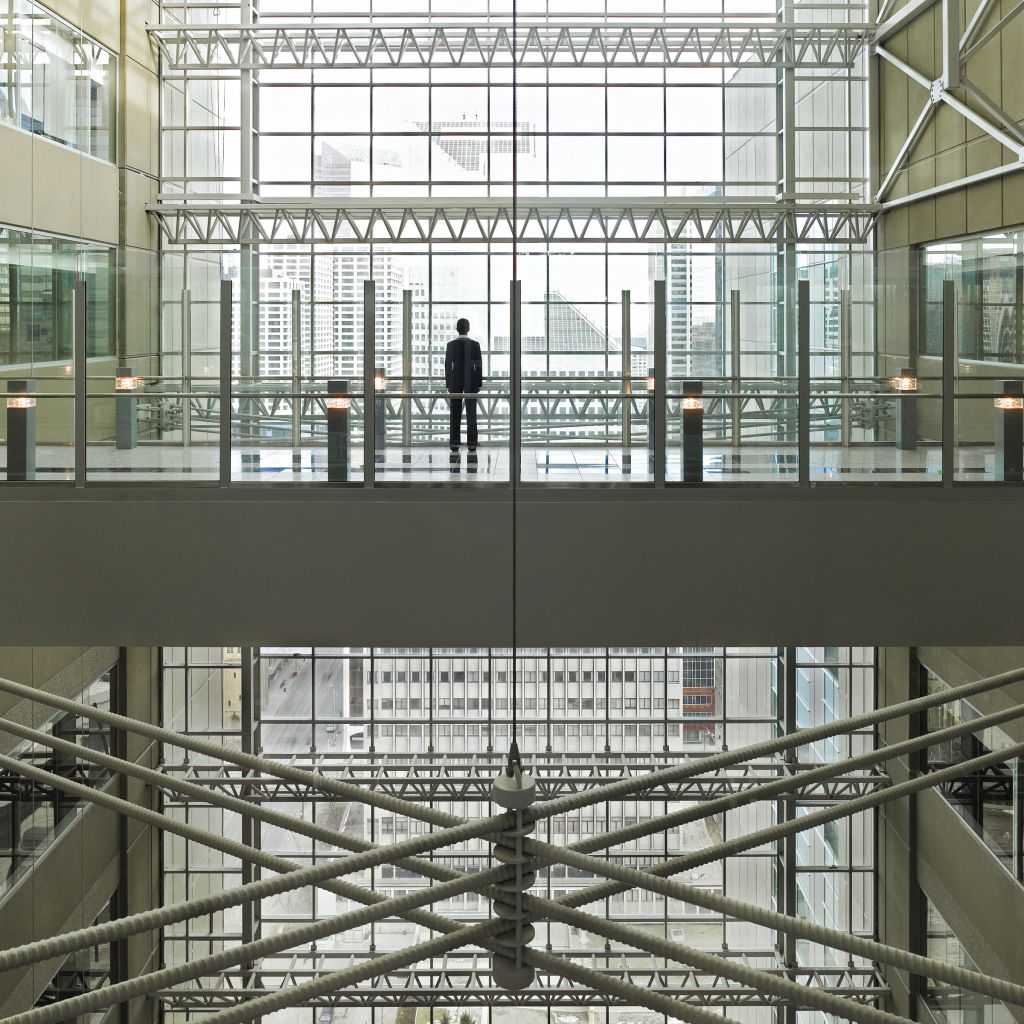 Designing an appealing courthouse
The Calgary Courts Centre comprises two towers connected by one of the largest atriums in North America. The towers are constructed from glass and concrete—one standing 24 storeys and the other at 20 storeys. They are joined by a 26-storey atrium, outfitted with elevator lobbies and public gathering spaces at all levels. The elevator lobbies also act as walkways joining the two towers through the atrium.
In the planning stages of the public/private partnership (P3) project, the Government of Alberta called for a "dignified contemporary facility, accessible to all that stands in the community as the embodiment of democratic rights, individual freedoms, and justice."
CCC's architecture and design was inspired by these ideals. From the choice of construction materials, to the concept of a glass atrium at its heart, the form of the design grew from a seamless interconnection with the important function the courts fulfill.
With 73 courtrooms, the CCC has the most of any courthouse in the nation. It also houses the Provincial Court of Alberta and the Court of Queen's Bench (Federal). Combining both in the same facility allows for court proceeding efficiency and a significantly reduced chance of trials being delayed due to lack of available facilities.
Additionally, a multi-purpose room has also been custom designed for use as an aboriginal courtroom. The design team visited the Tsuu T'ina nation, and collaborated with their representatives to help create this unique space. It is not purely a courtroom, but will serve a number of cultural purposes, including conflict resolution.
Sustainable siting and project delivery
The strategic decision to locate the complex in the heart of downtown confirms the sustainable design approach. This is because the CCC is located on a previously developed site and is within easy access of four light-rail transit (LRT) lines and more than 50 regularly scheduled bus routes.
The available site included half of a city block—the West Block—as well as an entire city block—the East Block. While the site selected was just minutes away from other justice components, such as Correctional Services Canada and the Youthlink Calgary Police Interpretive Centre, numerous infrastructure issues created multiple design iterations during schematic and development phases.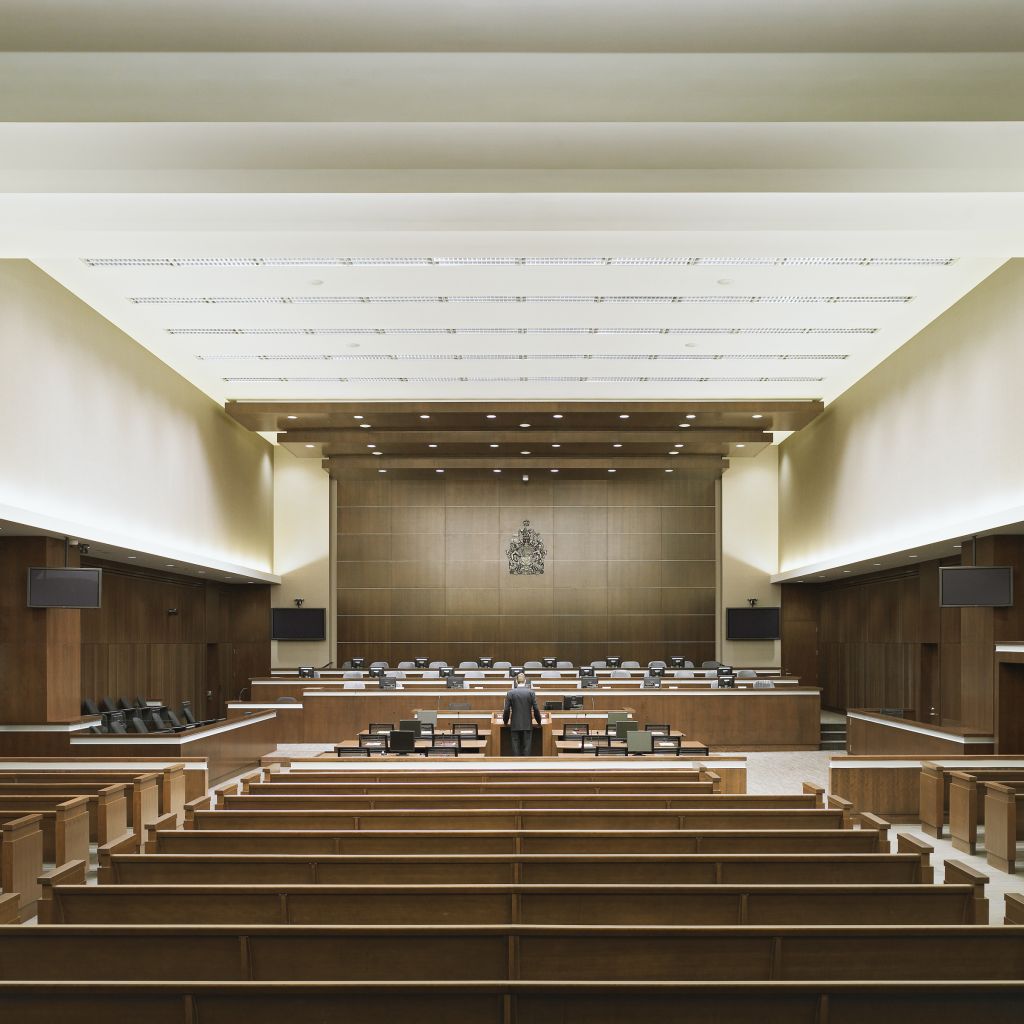 The facility imposed a large building footprint on the West Block, which was bifurcated by a back lane. The need for the large building footprint was generated out of the desire to place the entire CCC, except for underground public parking, on the West Block to free up the East Block for a significant 0.6-ha (1.5-acre) public park. Designers adjusted the building footprint to leave room on the northwest corner of the West Block for a new lane. This resulted in a land swap with the City of Calgary, whereby the lane turned 90 degrees at the new building, freeing up the abandoned lane for the new courts building.
While the project began as a design competition within the context of a P3 delivery model, it was modified to a design-build model. With this project delivery method in place, a shift in thinking from the traditional linear and segregated method (i.e. having each discipline working separately) to one consisting of collaboration with the construction industry, was one of the design team's innovative approaches. In the early project stages, the contractor, major sub-trades, and suppliers were brought to the design table to discuss material availability and appropriateness, work sequencing, construction standards, detailing, and design parameters.
This resulted in the development of design and construction documents reflecting much of what the industry could—and was prepared to—build within the budget and schedule requirements. For example, along with industry experts, the two major building envelope sub-trades assisted in the development of the precast panel and curtain wall detailing, including the intersection of the two systems. This led to the preparation of documents that provided an accurate reflection of what was going to be built. It also shortened time for shop drawing preparation, review, and approval, and allowed products to be ordered in advance of completed drawings.
Three additional examples of innovative construction solutions to meet scheduling requirements included:
implementing a self-climbing core-forming system that reduced a typical 11-day concrete-forming cycle into seven days;
pre-purchase of offsite storage of materials to mitigate price increases and prevent delivery delays; and
pre-fabricating of the courtroom millwork.
It is evident because of a shift in project delivery method, the team was able to carry out an aggressive schedule. It took just under three years to design and build the 92,903-m2 (1 million-sf) facility, which is now the largest courthouse in Canada and third largest in North America.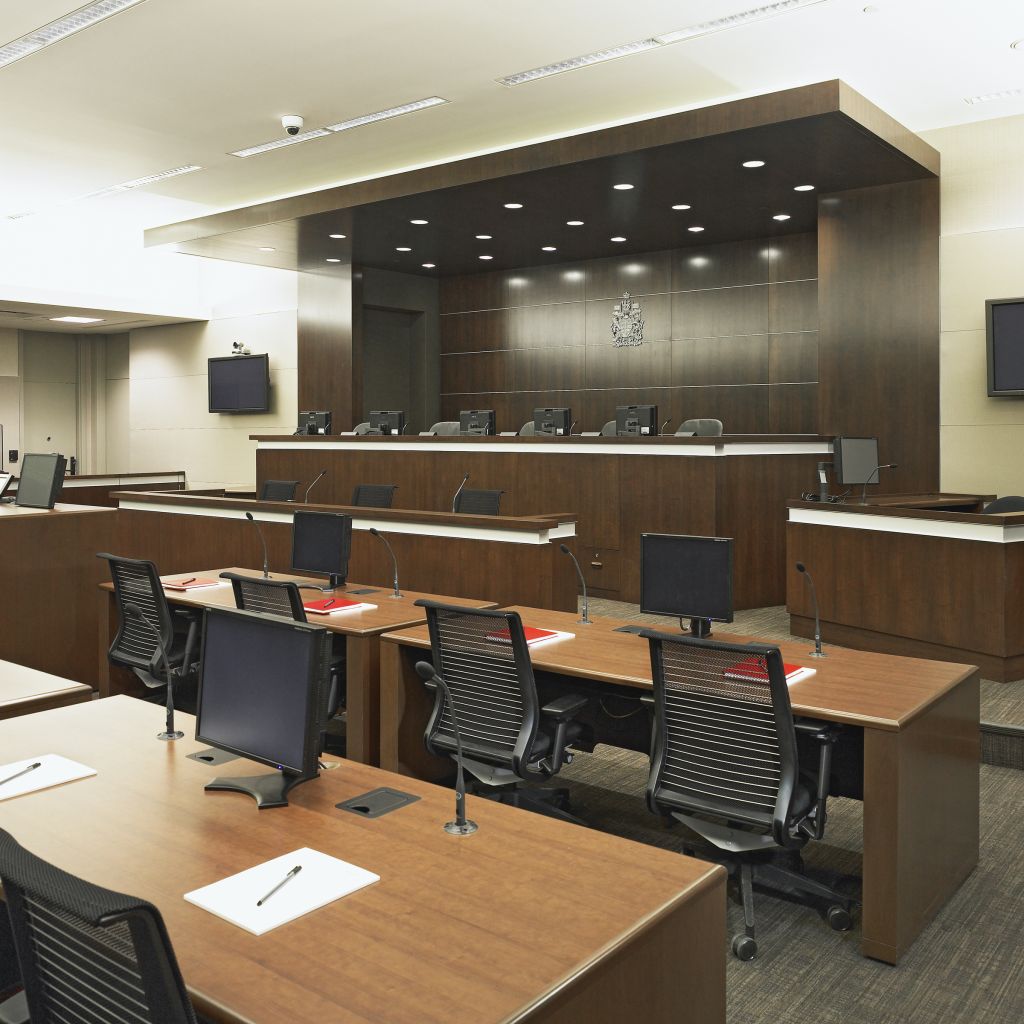 Accessibility for all
Located in downtown Calgary, important considerations for incorporation into the design were brought to light, including:
public transportation integration;
underground utility services;
street/pedestrian interfaces;
street lighting;
landscaping; and
vehicular patterns.
Their inclusion in the initial design phase allowed potential conflicts between the design and city standards to be addressed prior to the sequential tendering process, avoiding project delays.
Transportation station
Designers were challenged with redeveloping and widening the LRT station, affecting both the West and East Blocks. To integrate the station seamlessly into CCC Park, the park level was raised to allow a direct grade connection to the station, creating the impression the LRT station is 'within' a park environment. Additionally, the main courts building to the west were set back and additional floors were added to compensate for the widening of the LRT tracks.
With the redevelopment of the LRT station, came additional challenges put forth by the city. Designers were tasked with constructing a major underground electrical vault to serve the downtown LRT system alongside CCC Park. The parkade design (below the park) was adjusted as well as the park design modified to allow the vault to be inserted into the mix.
Accessibility and wayfinding
Courthouses are often frequented by first-time visitors and so providing an easy-to-navigate layout is a crucial consideration. This design consideration provided inspiration for the overall layout of the Calgary Courts Centre. The central atrium provides visitors a 'home base' as they first enter the complex and the extensive use of windows and open walkways throughout the atrium and towers, allows the public to visually orient themselves in the facility.
The floor plan acts as another wayfinding tool, with many small, easily navigable floors. This floor plan is different than many traditional courthouses, which are often large, sprawling buildings with a large number of rooms opening off long, maze-like hallways.
Justice for the environment
The design of the Calgary Courts Centre includes a broad range of environmental features and practices, from recycling materials recovered from the demolition of old buildings onsite, to the use of rainwater to keep the civic park green.
The historic sandstone building, constructed in 1914 for the Alberta Court of Appeals, was designated as a provincial heritage resource and set to remain nestled in the urban park adjacent to CCC. Interior demolition that facilitated asbestos removal and abatement was carried out and more than 70 per cent of the building material derived from demolition was recycled including approximately 1000 tonnes of steel and 15,000 tonnes of concrete.
Sustainable construction and operational features included in the design are:
rigorous construction waste-management carried out during the build process with 73 per cent of construction waste diverted from landfills;
reduction of 1113 tonnes of garbage and an addition in recycled materials of 743.16 tonnes;
a cistern implemented to capture and store rainwater to be used in park irrigation as part of the stormwater management plan;
no potable water required for irrigation;
greenery of the park irrigated through the use of rainwater captured and stored on the roof;
energy use, and therefore carbon emission, reductions are maximized through use of triple- and double-paned glass throughout the structure;
purchasing of 110 MWh of green power by Alberta Infrastructure from 2005 to 2008;
energy consumption of 35.4 per cent below the level of Model National Energy Building Code (MNEBC);
water consumption measures reduce consumption by 26 per cent, through low-flow toilets and sensors on sinks in all washrooms;
wheatstraw fibreboard—a rapidly renewable and non-toxic material—was used in all millwork;
reduction of the urban heat island effect with 93 per cent of the roof area covered by high-albedo materials;
recycled materials such as fly-ash used in the concrete, and steel and rebar made of over 90 per cent recycled content was incorporated; and
bicycle storage, showers, and changeroom facilities included to encourage occupants to use energy-saving means of transportation.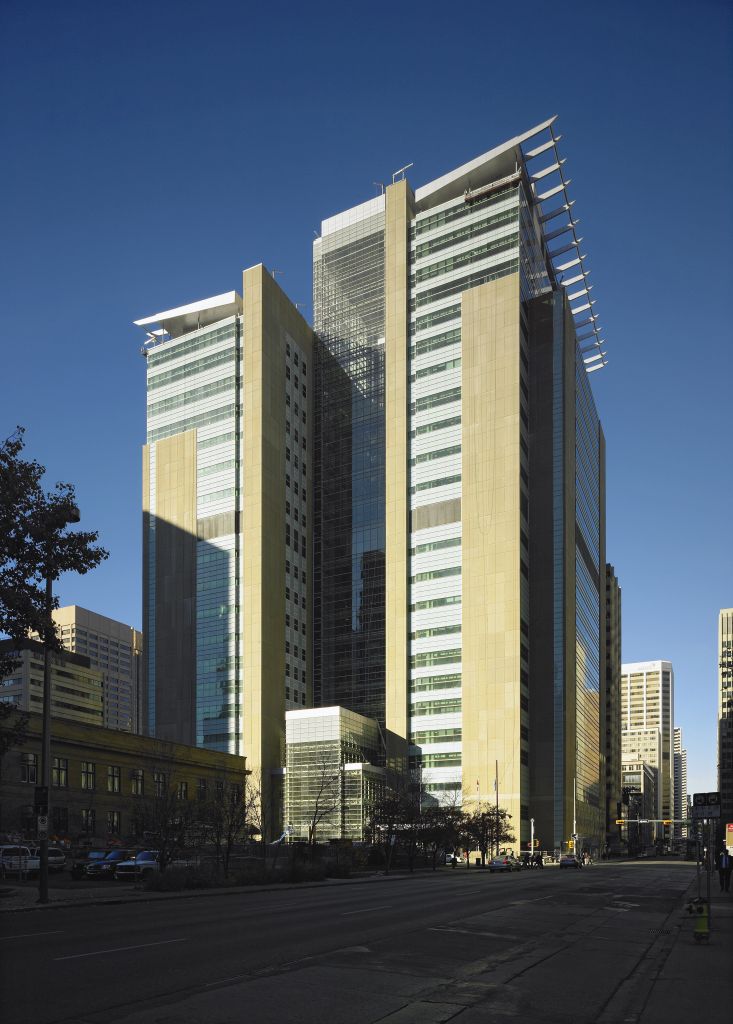 Facility users' right to light
The report, "Green Courthouse Planning and Design," issued by the National Centre for State Courts, notes promoting natural light in the workplace environment can be perplexing when considering courthouse design. The report states:
designing a courthouse that provides enough daylighting … is a challenge. The web of circulation required to separate public, judges, and detainees required in modern courthouses has an unintended effect: courtrooms can easily become interior rooms cut off from access to daylight and views.
The Calgary Courts Centre achieves a high level of security in an unobtrusive manner while letting in natural light and ensuring views of the surrounding city. Not only were high levels of energy efficiency prevalent through a high-performance building envelope and airtightness (e.g. triple pane high-performance glazing) but dynamic dimming for daylight control was also achieved. Further technologically controlled lighting systems use daylight-harvesting to save energy. Of equal importance, these strategies increase the comfort of those who work in proximity to the windows, supporting the objective of a facility users' right to light.
Beyond the LEED-ing principles
Canada Green Building Council (CaGBC) announced this year 1000 projects have been LEED-certified in the country. As one of these projects that has contributed to this milestone, the Calgary Courts Centre is undoubtedly a high-performance green building. However, while LEED promotes a holistic approach to sustainability by recognizing performance in areas of sustainable site development, water efficiency, energy-efficient materials selection, and indoor environmental quality, there are yet other aspects in which the Calgary Courts Centre's design goes above and beyond LEED expectations for sustainability.
Sustainability often refers to reducing environmental impact, which is evident in LEED certification criteria. However, an emerging body of thought suggests a broader scope for sustainability that encompasses the three Ps: people, planet, and prosperity.
When applying social and economic considerations, as well as environmental, to courthouse design, it is evident:
achieving a sustainable justice system requires whole-systems thinking, meaning that individual pieces of the system cannot be optimized in isolation, either from one another or from the justice system as a whole. Whole-systems thinking provides the opportunity to solve many problems more effectively and at lower cost. For example, speedier trials and supervised community-based alternatives to incarceration are quicker to deploy and cheaper to operate than building new jail beds to hold people awaiting trial.1
One goal in combining both the provincial and federal justice systems within the same complex was to reinforce the public perception the two types of courts are not wholly distinct from one another. Another goal was the efficiency in space planning and the flexibility in use that comes from providing facilities for two courts systems together in a high-rise configuration.
Typically, provincial and federal courts would be housed in separate facilities, but this has led to inefficiencies and delays due to the fluctuating demand for court space and uncertainty in the duration of trials. While the CCC has designated spaces for the two systems, each courtroom can serve the needs of either, improving the overall efficiency of building use and expediting the justice system's processes.
Both levels of court serve a diverse range of trials and other ceremonies resulting in large differences in size, level of security, and space capacity. Many chambers within the courthouse were designed with numerous community groups in mind. Transformative and collaborative approaches to justice, such as alternative dispute resolution and aboriginal sentencing circles, were considered during the design phase to create a holistic building.
In order to accommodate the changing Calgary climate, designers worked with mechanical engineers Hemisphere Engineering to install a building pressurization control system to accommodate pressure differentials and compensate for the huge differences in indoor and outdoor temperatures. Similarly, HVAC systems installed include high-efficiency exhaust-air-heat recovery and energy-efficient chillers designed for 0.5 kW/tonne performance, condensing boilers, and sophisticated electronic building control and automation systems. Further features include extended media filtration and steam humidification. Boiler and chilled water plants are designed for 'low-flow high-delta T' for enhanced pumping efficiencies.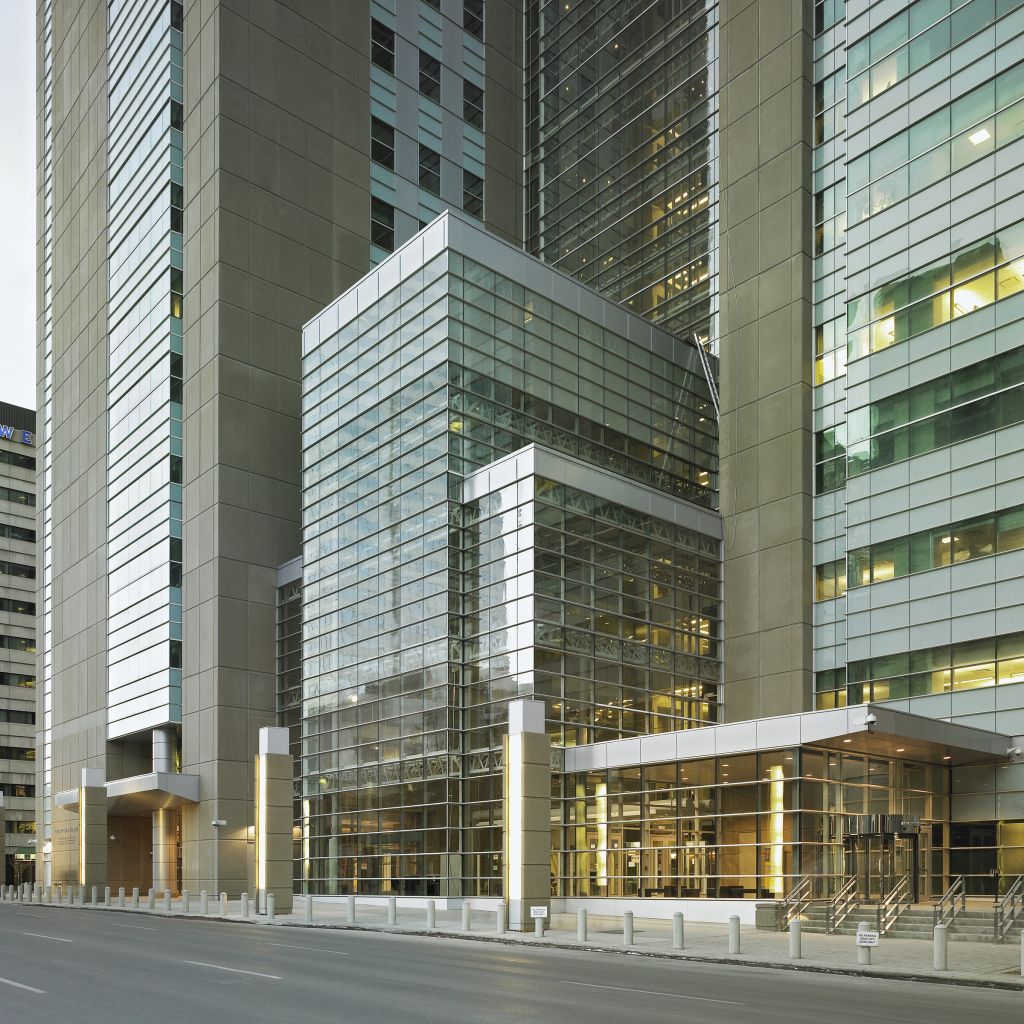 Typical chilled water plants operate with a five-degree Celsius chilled water temperature differential. However, with a high-delta T system, chilled water temperature differentials are increased to between eight and nine degrees Celsius, which allows more Btu (J/s) of cooling to be accomplished per litre of chilled water distributed. Additionally, the resulting pressure losses and pumping energy decline considerably in HVAC systems that facilitate cost and energy saving measures. Some of these measures include the use of smaller pumps and piping, less limitations from maximum evaporator flow rates for water chiller capacities, and the increased storage of tonne-hours (MJ) of cooling in chilled-water storage tanks.
Maintaining comfortable courtroom temperatures were a top priority and particular challenge. With the fluctuations of bodies in courtrooms, depending on the case, the room temperature must account and adapt for body heat emitted. To create a stable environment, the courtrooms required technically advanced automation systems to control air movement and temperature.
Advanced communication technology was incorporated into each courtroom to ensure each trial area was optimized, providing fast and efficient proceedings that are accurately documented. Voice-recording, video playback, voice-amplification, and remote-testimony technologies were installed to increase access for members of the public with mobility or physical disabilities and provide a foundation for future technology integration.
A civic hub for the community
During initial research and benchmarking it was discovered conventional courthouses were typically dark, impenetrable buildings characterized by small windows and exterior stairs. Horizontally oriented and almost bunker like, the courthouse facilities were marked with long corridors devoid of natural light and views. Additionally, exterior building stone from the demolished former Queen's Bench Court was incorporated into the park landscape.
Taking into consideration these findings, Kasian took an enlightened approach to the courthouse's design to enhance the human potential. While the Calgary Courts Centre provides all the purposeful necessities required for a functional courthouse, a number of structural considerations ensured the facility was open, welcoming, easy to navigate, and gave back to the community.
The three main considerations during the design and construction phases were:
demonstrating transparency in a physical form;
ensuring safety and security for staff and visitors; and
designing a positive gathering place.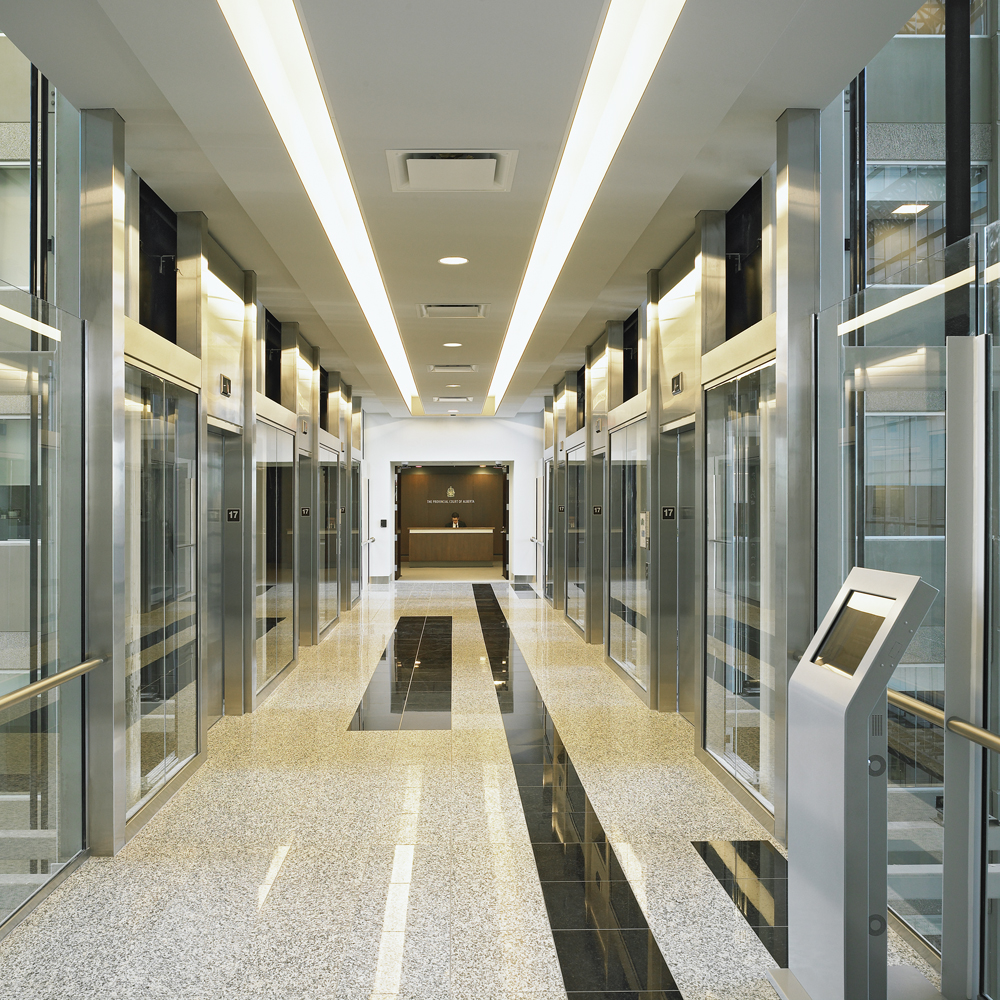 Transparency of justice
Creating a sense of openness helps to address, at a symbolic level, the highly held belief by the judiciary that justice must be transparent. Transparency is an important communication point for society which the courts are meant to serve. Through a curiosity to manifest a sense of openness in a physical form, designers extensively used glass throughout the public spaces and building exterior.
The most unique architectural feature in the design of the CCC is a direct manifestation of the theme of transparency of justice. The 26-storey central glass atrium, which adjoins the two concrete-and-glass towers, embodies openness and transparency. A public restaurant along with other features provide visitors—including civilians, school groups, or those directly involved in court proceedings—a welcoming experience.
While constructing the atrium, there were numerous challenges. First, because of the sheer size and differentials between the heights of the atriumconnected towers, each moves at different speeds and magnitudes—as much as 152 to 254 mm (6 to 10 in.). This required the project's structural engineer, Stantec Consulting Ltd., to build tolerances for wind and earthquake activity. Additional precautions were implemented including tying together each fl oor by a series of three-dimensional structural steel trusses that support the curtain wall's weight while
accounting for lateral forces.
Second, by creating a 26-storey full-height curtain wall, there was the risk of enormous heat loss and gain through the glass. While unconventional for this size of structure, it was decided triple-glazed windows had to be installed in the tower to reduce heat loss and gain and reduce glare and direct sunlight.
Secure design
The overall safety and security of the CCC was top priority during the building phase of the project. In order to bring a sense of protection, general contractor Cana Management Ltd., and structural engineer Stantec,  installed a massive structural steel framework to create a durable courthouse foundation. The steel framework allows the structure to maintain imperviousness—even if two-thirds of the exterior columns on the first six floors experience failure, the CCC will remain standing.
Within the courthouse, the facility was designed to allow for easy movement for staff and visitors, while also providing the stringent safety requirements vital to the movements of prisoners, judges, and jury through the complex. After consultation with user groups, and review of existing facilities, three distinct circulation systems within the building were established. The public accesses the courtrooms through the atrium circulation hub, the judiciary accesses the courtrooms through private corridors behind the courtroom that lead, through the use of
private elevators, to their respective judicial offices, and prisoners are brought up vertically from the holding facilities through special, prisoner-only elevators into holding cells fl anking the courtrooms.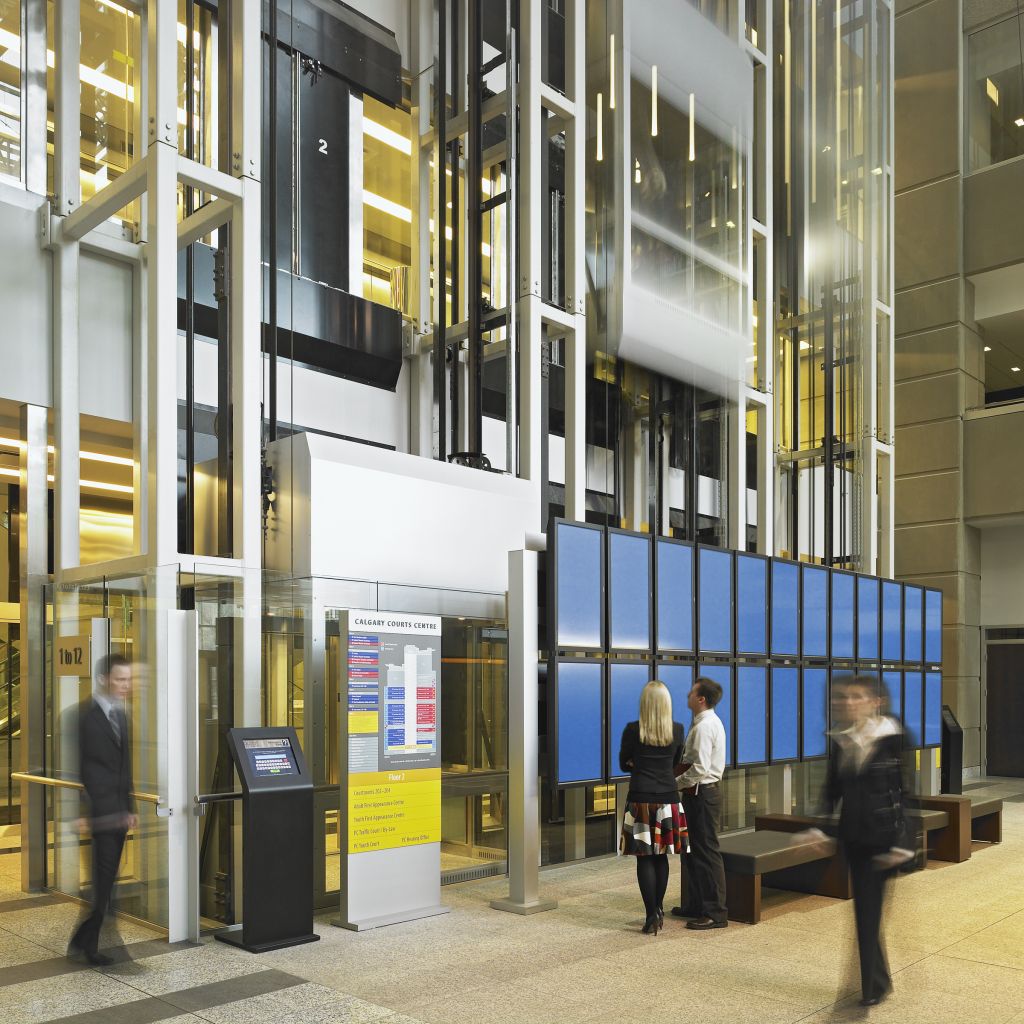 A positive gathering place
Upon determining the footprint of the CCC, designers suggested setting aside a large area for a public park as a gift to the citizens of Calgary. The 0.6-ha (1.5-acre) park is seamlessly integrated with the LRT platform to provide a rare open space amidst the dense downtown core.
The easterly block was converted into a major civic park reflecting Alberta's provincial flag, which includes elements of prairie, foothill, and mountain icons. Located directly atop a 700-car public parkade, special structural considerations were made to accommodate the immense weight of the trees and other landscape elements. During the demolition phase, approximately 70,000 m3 (91,557 cy) of soil were excavated to prepare the site for construction (including the parkade).
Ultimately, the creation of an attached public park and the inclusion of open space within the complex creates a sense of welcome. This stands in contrast to many other courthouses that look and feel intimidating or monolithic due to features of the architecture and design.
Conclusion
From selection of construction materials, to the concept of a glass atrium at its heart, the form of the Calgary Courts Centre grew from a seamless interconnection with the important function the courts fulfill. Calling on the five key principals proposed by the Sustainable Justice 2030 white paper—sustainable justice system, sustainable community, sustainable user, sustainable building, and sustainable environment—it is evident the CCC is an exceptional benchmark for holistic sustainable courthouse design.
The development of strategic site plans, consolidation of federal and provincial justice systems, addition of urban parks and transit, integration of innovative structural design elements, refurbishment of the historical sandstone building, and assimilation of LEED design principals creates a sustainable structure.
As noted by the American Institute of Architects (AIA) Green Guide to Justice, it is imperative that "within the goal of transforming the justice system to greater sustainability, each building project is an opportunity to transform the relationship of the justice system to the communities it serves, as it becomes more efficient in the use of resources." Through the consciousness of the justice system, community, users, building and environment, the Calgary Courts Centre is able to bring a vision of the sustainable future into modern-day form—a beacon for progressive justice.
Notes
1 For more, see "Federal Courthouse" from the Whole Building Design Guide, written by Gerald Thacker. (back to top)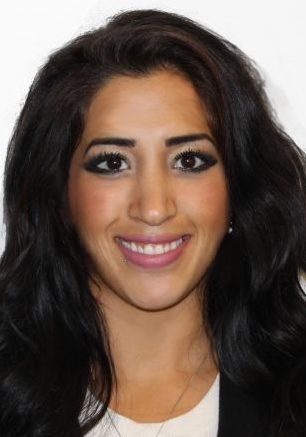 Teresa Sims, BCom, is the marketing co-ordinator for Kasian Architecture Interior Design and Planning Ltd. She can be reached at teresa.sims@kasian.com.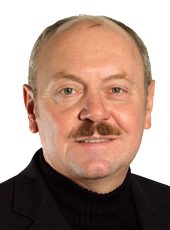 Bill Chomik, AAA, MAIBC, FRAIC, Hon. FAIA, RCA, is a principal with Kasian, and the key individual in the delivery of architectural, strategic planning (master planning and programming), interior planning, and urban planning services for clients spanning around the globe. He can be contacted by e-mail at bill.chomik@kasian.com.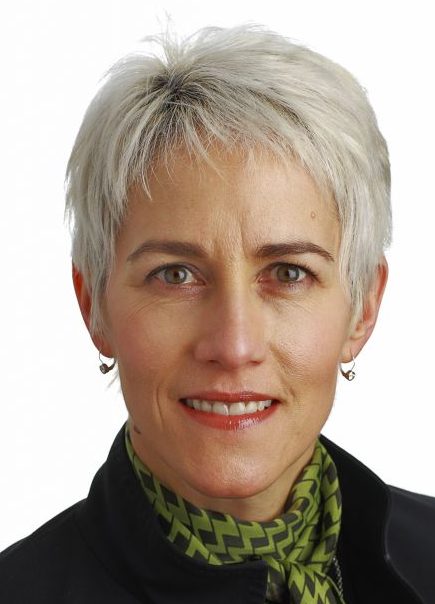 Lois Wellwood, BID, NCIDQ, ARIDO, IDA, IDC, is a principal with Kasian, and project director for interior design. She focuses on the integration of architecture and interior design teams, project vision, design direction, and workplace strategies. Wellwood can be reached via e-mail at lois.wellwood@kasian.com.

Control the content you see on ConstructionCanada.net!
Learn More.