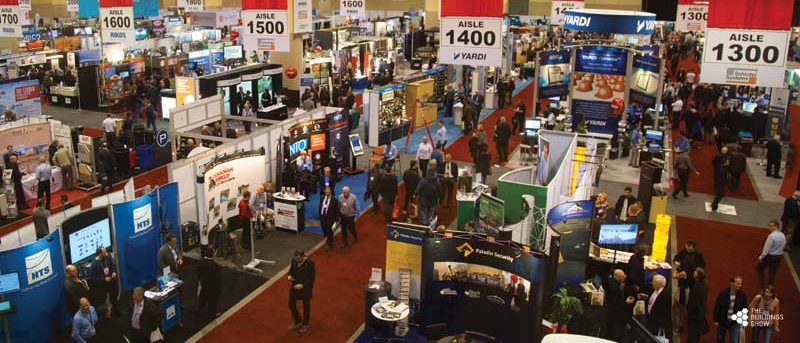 Construct Canada, part of North America's largest design and construction exposition, is coming to Toronto later this month. The event runs concurrently with PM Expo, HomeBuilder and Renovation Expo, the World of Concrete Pavilion, and IIDEX Canada—together, they make up The Buildings Show. Attendees can find the show at the Metro Toronto Convention Centre, South building, from November 30 to December 2.
Construct Canada will once again feature the latest innovations in the industry, along with countless learning and networking opportunities. About 30,000 industry professionals are expected to attend, while the show itself will house more than 1600 exhibits, 100 of which are international.
Construction Canada will be one of those exhibitors, located at Booth #720. The magazine will also reprise its role as co-sponsor of a seminar series on exterior enclosures: the Building Envelope Solutions program stream. In total, 350 sessions are planned.
To obtain the most up-to-date information on Construct Canada, or to register, get directions, or contact the expo, visit www.constructcanada.com.
WEDNESDAY, NOVEMBER 30
9:00 a.m.–10:15 a.m.
W130 Methods of Façade Retrofit for Occupied Commercial Buildings


(Rob Wood, C3 Polymeric)


The majority of commercial buildings in Canada are at an age where renewal of the façade must be considered. This presentation discusses common failures in curtain walls and their root causes, helping professionals understand how to make the best retrofit decisions. A variety of case studies from significant retrofits, including an in-depth look at 400 University and a basic one at Toronto City Hall, will be used to demonstrate challenges, best methods, and other factors in façade retrofit.W131 Building Envelope Assessment: Dealing with the Cause, Not the Symptom
(Michael Doiron, Enerplan Building Consultants)
For older condominiums and apartments, the building envelope, which includes exterior walls, windows, doors, and roofs, is the largest and most expensive part of the building—however, it rarely receives the attention it requires. This presentation will identify and assess typical issues with building envelopes in older multi-residential buildings, and explore how design and construction professionals can deal with them.

10:30 a.m.–12:00 p.m.
W132 Air Barrier vs. Vapour Barrier: Understanding Function for the Performance of Your Building
(Steve Tratt, Canam Building Envelope Specialists)
Air leakage through the building envelope can lead to condensation, moisture damage, rain penetration, and poor indoor temperature and humidity control. According to tests carried out by the National Research Council of Canada (NRC), air leakage accounts for 30 to 50 per cent of heat loss. Understanding the diverse roles of air and vapour barriers is key to preventing this. This seminar discusses the effect of air leakage on the above problems, along with corrective methods and calculation methodology, with examples of typical design and engineering oversights and case studies on the insulation of arenas with brine headers.

W133 Masonry Repairs and Retrofits for Occupant Comfort, Energy Efficiency, and Building Life Cycle
(Phil Brearton and Pravin Pai, Stephenson Engineering)
Masonry buildings age with grace when properly designed, built, and maintained. This session discusses strategies for ensuring a masonry building meets expectations in comfort, energy efficiency, and longevity, featuring case studies on major retrofit and maintenance/repair projects. The masonry retrofit case study will provide an example of a wall upgrade that incorporated the above goals, while the maintenance/repair case studies show typical defects and effective repairs to ensure continued beauty and life expectancy.

1:00 p.m.–2:15 p.m.
W134 EIFS Cladding Durability and Energy Code Changes: Climate Change, We Have You Covered
(John Edgar, John R. S Edgar Consulting)
Energy conservation requirements are being redefined to accommodate climate change. To meet the terms of the Paris Accord, stretch-building codes will position the building envelope as the principal element in energy conservation, while trade-offs for mechanical systems will be reduced or eliminated. Exterior insulation finish systems (EIFS), now incorporated into the National Building Code of Canada (NBC) as the most rigorously evaluated claddings available, meet both the CCMC Technical Guide and ULC S716. This presentation covers codes, standards, technical detailing, and
ensuring durability.

W135 An Insightful Update on Mould, Moisture, and Envelope Failures
(Bruce Stewart and Paul Johannesson, Pinchin)
Property managers are responsible for preventing, or at least mitigating, mould growth in their buildings. Failures of the building envelope are frequently the cause of mould growth, which can occur whenever conditions of excess moisture are present. This session offers advice on responding to water damage or mould growth, and on diagnosing and correcting common building envelope failures.

W136 Air and Water Barriers: How to Specify, Detail, Construct, and Inspect for Success
(Peter Saunders, Marc Tropper, and Christopher Armour Henry Company Canada)
Successful installation of an air and water barrier starts with a solid understanding of its proper specification, detailing, inspection, and installation. This talk provides such an understanding through discussion of three categories: physical properties (beyond air leakage) and new test methods/standards; how to specify and incorporate these properties and methods; and hands-on application (how to prepare substrate and install the membrane correctly, what to look for during an inspection, and remedies for common mistakes).

W152 Case Study on Concrete Restoration: What's New and Innovative
(Daniel Rosa [Vector Corrosion Technologies], Jeremy Horst [Read Jones Christoffersen], Walid Habis [Momentus Engineering Management], and Greg Dolenc [Sika Canada])
The Building and Concrete Restoration Association of Ontario (BCRAO) presents a series of unique case studies to demonstrate how technologies such as carbon-fibre-reinforced polymer (CFRP), cathodic protection, and solutions for post-tension repairs are changing the building and concrete restoration industry. Speakers will use these studies to address structural uses, applications, and best practices that can be implemented on building projects.

2:30 p.m.–4:00 p.m.
W137 Disrupting the Building Sciences: Assessing Building Connectivity through New Technologies
(Kevin Day, Dryvit Systems Canada, and Michael Cohen, Industrial SkyWorks)
Drone technology has entered building sciences. Equipped with advanced high-resolution and thermal cameras, this technology provides vantage points unachievable through traditional methods.
Building owners can more easily acquire robust facility data—for instance, by remotely sensing building envelope connectivity. This presentation covers the latest in drone technology, building sciences applications and case studies, and safety, privacy, and regulatory elements.

W138 Rooftop Management: Important Decisions by Building Managers for Lasting Roof Performance
(Allen Lyte, T.J. Allen Partners)
To maximize roof performance, facility managers must understand how roof transitions, rooftop mechanical equipment, and penetrations can impact the roof. They also need to know how design decisions can simplify future work, and be able to identify critical factors in making roof replacement decisions. This presentation serves to help managers select roofing strategies by discussing common roof systems and their attributes, as well as design considerations to address roof clutter and optimize both lasting performance and return on investment.

W139 Introduction to the New CSA A500 Building Guards Standard
(Greg Hildebrand, Exp Services)
Since the summer of 2011, tempered glass balconies from more than 20 buildings in the GTA have shattered. In response, a new CSA standard for guards, including glass guards, has been developed A500, Building Guards. This presentation, given by a speaker who spearheaded the new standard's development, outlines its content and key areas. Some of the problems associated with building guards, variables to consider in their design, and potential effects of the expected changes on the industry will also be discussed.
THURSDAY, DECEMBER 1
9:00 a.m.–10:15 a.m.


T130

High-performance Building Envelopes Using Thin Natural Stone Cladding




(Martin Kirk, Kirk Natural Stone Developments)


Thin, mechanically fixed natural stone cladding systems are a solid response to the changing building envelope field. These can be fixed onsite or factory-fitted, and can provide durable and attractive building façades with low whole life cost and high sustainability credentials. This seminar will discuss how easy thin stone cladding is to install, and why it should be used in place of cheaper, poorly weathering façade materials.T131 Diagnosing and Fixing the Root Causes of Curtain Wall Failures


(Rob Wood, C3 Polymeric)


Curtain walls can fail for various reasons, from design, construction, and installation errors to aging. In this presentation, practical examples are used to illustrate proper methods of detailing, as well as root causes of failures and what can be done to prevent them (featuring photos that show systems' inner workings). There will be a brief discussion of the primary functions of a curtain wall system and a high-level review of primary failure causes.

T150 Insights into Sustainable Concrete Floors
(Geoff Kinney, Concrete Floor Contractors Association of Canada)
Exposed concrete floors have become very popular in today's sustainable world. Concrete floors are a mandatory part of every building, and have the unique ability to be left exposed as a final finish. This in-depth discussion focuses on the specifications, the quality planning, national standards, and inspection requirements one should follow to obtain good concrete floor performance
and sustainability.

10:30 a.m.–12:00 p.m.
T132 Glass Wall Systems: Meeting Today's Challenges and Maximizing Performance
(Peter Adams and Steve Murray, Morrison Hershfield)
Due to factors such as esthetics, cost, and user demand, there has been a tremendous surge in the use of exterior glass walls in construction. This session discusses many common challenges of this more lightweight style of construction and how to address them. Topics will include common causes of water penetration, limitations on building HVAC systems, and new technologies that can maximize thermal performance, featuring case studies from projects across North America.

T133 Understanding Building Envelope Failures
(Jack Albert, Read Jones Christoffersen)
Early detection of building envelope failures and an understanding of contributing factors are the keys to building longevity. Forensic investigation of the building envelope can prevent both further deterioration of the building and disruption to existing tenants. This session addresses cladding, glazing, and roofing failures, as well as repair solutions to help the building envelope meet building code and structural standards for durability, esthetics, and
life cycle.

T151 Modern Building Enclosures: Implementing the New Energy Standards
(Alex Lukachko, RDH Building Science)
Building codes and regulations have been rapidly changing to improve the resource efficiency and durability of buildings. Current and proposed building codes contain simple, reasonable provisions for better building enclosures—but these changes have far-reaching implications. With a focus on thermal control, this session examines building code changes and their impact on architectural design, with case studies to explain how new code requirements are pushing towards new approaches to enclosure design and construction.

T203 From Napkin Sketch to Realized Performance: The Dollars and Sense of Low-carbon Mixed-Use Development
(Jenny McMinn and Steve Dulmage, BuildGreen Solutions)
A low-carbon future requires intelligent financial development planning. There is a need for an expanded value proposition that breaks down budget silos, brings together investors and partners with mutually beneficial objectives, and creates a dynamic business strategy capitalizing on revenue. To understand green development metrics, nurture successful financial models, and create liquidity through development, this talk reviews business cases for achieving carbon neutrality and ultra-low water consumption in mixed-use communities.

1:00 p.m.–2:15 p.m.
T134 Cost-effective Solutions for Continuous Exterior Insulation
(Paul Duffy, Icynene)
Both the National Building Code of Canada (NBC)and the Alberta Building Code have recently become more detailed on high-performance exterior walls. In turn, designers have become more aware of the benefits of integrated solutions (e.g. sprayed polyurethane foam [SPF]) for labour and cost savings, scheduling, and performance. This session discusses concepts driving exterior insulation performance and offers practical tips for implementing these concepts in the field.

T135 What's New and Innovative in Commercial Roofing?
(Sudhakar Molleti, National Research Council)
Canadian roofing systems are increasingly providing environmental benefits such as energy saving and energy harvesting. In order to improve roofing developments, The National Research Council of Canada (NRC) has been conducting research to increase understanding of how these systems perform. As part of this research agenda, this presentation will examine the development of a national wind uplift standard for vegetated roof assembly. It looks at how to turn roofs into energy-producers, and explores the long-term performance of advanced insulation.

T138 Façade Renewal: A Tale of Two Buildings
(Scott Armstrong and Andrea Yee, WSP Canada)
Canada's existing building stock is aging, and building owners must weigh the costs and benefits of investing in major building renewal. Façade renewal can improve esthetics, replace deteriorated materials, reduce energy consumption, and satisfy occupant comfort demands. Building science and energy consultants can provide valuable input on this matter, preventing owners from deferring important repairs. Client objectives, esthetic enhancements, energy analysis, logistics, and technical considerations will be discussed, with two case studies for demonstration.

T152 Architectural Precast Concrete: A Stunning and Resilient Solution to Your Building Enclosure Esthetics
(Bob Fedchyshyn, Nawkaw Corporation and Brian Hall, Canadian Precast/Prestressed Concrete Institute)
As developers and owners compete to attract tenants and buyers, there is increasing demand for variety in esthetics. To add visual interest and depth to façades, many designers are using brick-faced precast concrete panels. These combine the structural advantages of architectural precast with the esthetics of clay masonry, without the time and cost of onsite bricklaying. Formliners, colours, and stains can be manufactured to create almost any design desired.

2:30 p.m.–4:00 p.m.
T136 CAN/ULC S741 and S742 – Do You Know Your Canadian Air Barrier Standards?
(Jean-François Cote, Soprema)
Two new standards for air barriers have appeared in Canada, in 2008 and 2011 respectively: CAN/ULC S741 (for air barrier materials) and also ULC S742 (for air barrier assemblies). Both were reaffirmed in 2016, but their use in Canada is still quite limited. Participants will learn the differences between CAN/ULC-S741 and ASTM E2178 and those between CAN/ULC-S742 and ASTM E2357, find out the relevance of CAN/ULC-S741 and S742 for Canadian projects, and recognize that air barrier assemblies include those on the roof—not just walls.

T137 Large Building Airtightness: Where We're  At and Where We're Going
(Randy Van Straaten, RDH Building Science)
Mandatory airtightness testing of large buildings has been implemented in some North American jurisdictions, and is being considered in more. This seminar examines the current state of North American large building airtightness, based on the results of over 500 tests. It shares lessons on testing success and related challenges/considerations, the impact of more stringent standards on design, construction, and material selection, and the differences between airtightness, air leakage, and natural ventilation.

T139 Restoration, Repair, and Protection of Concrete Building Envelopes and Parking Structures
(James Cooper, Read Jones Christoffersen)
This seminar focuses on repairs to existing building envelopes, including repairs to concrete, building sealants/joints, and protective coatings, as well as membranes that can extend the life of concrete and precast concrete structures. It will outline procedures of partial and full repairs to existing projects in various parts of Canada. A detailed analysis will be provided on why specific products were chosen, as well as descriptions of repair and installation procedures.

Control the content you see on ConstructionCanada.net!
Learn More.