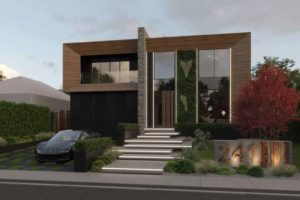 Pre-engineered home builder Daylun's flagship house in Toronto will target LEED for Homes Platinum Certification by relying on modular construction, based on patent-pending green products and energy-efficient solutions, in a bid to provide affordable housing solutions.
Located at 241 Waterloo, Toronto, Ont., the house will be completely modular and prefabricated, according to a design by Daylun founder and CEO, Arthur Zankowicz. The build will utilize a number of sustainable materials, including:
-Construction-grade, vegetable-based adhesive which reduces human and environmental toxicity.
-Concrete board made of EVA, stronger and lighter than drywall.
-Solar-heated outside cladding to act as a cost-effective passive heat gain system.
-Light-gauge, snap-together steel framing system.
A multifaceted team of industry professionals will see the project to completion. This roster includes:
-Jean Jasosic – Structural Engineer
-Mrigesh Roy – Mechanical Engineer
-Anna Lepetukhina – Interior/Biophilic Designer
-Dr. Beck Lee – Scientist for Chemistry of Foams and Bioproduct
-Ivan Patrick – Renewable Engineer
-Wladimir Sapyan – Architect
-Maximiliano Zepeda – Architect
-Valentyn Horditsa – Steel Structure Engineer
-Gavin Xing – Window Engineer
Daylun has partnered with leading sustainable companies such as DMX, Green Friendly Paint, Milwaukee Tools, Green-tek, Terra Designs, and LaFarge's low-carbon concrete.
Pre-engineered and manufactured modular homes are the forward-thinking solution to the prevalent societal challenges of inadequate housing supply and affordability, being comparatively less expensive to design and construct than conventional stick-built housing and take significantly less time to deliver to underserved homeowners.
The project will demonstrate the feasibility of modular home building in terms of time and money. 241 Waterloo's design methodology also reduces the project's carbon footprint and minimizes environmental impact.
The flagship project is expected to finish by the end of this year. It is now open to the public for pre-bidding and welcomes industry sponsors.