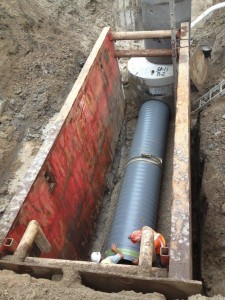 Polypropylene pipe for gravity flow sewer water applications was included in the new edition of the Ontario Provincial Standard Specification (OPSS) and Ontario Provincial Standard Drawing (OPSD) by the province's Ministry of Transportation (MTO).
The MTO announcement includes dual- and triple-wall polypropylene (PP) pipe, in addition to the approved use of high-density polyethylene (HDPE) pipe in diameters of 100 to 1500 mm (3.9 to 59 in.).
The specifications include:
OPSS 1843, Material Specification for Non-Pressure Polypropylene (PP) Plastic Pipe Products;
OPSS 410, Construction Specification Pipe Sewer Installation in Open Cut;
OPSS 421, Construction Specification for Pipe Culvert Installation in Open Cut; and
OPSD 806.030, Height of Fill Table.
"The value of the new OPSS for polypropylene and the existing OPSS for HDPE, is the municipalities in Ontario now have the documentation to ensure open competition for their tenders and achieve better value for their infrastructure dollar," ADS Pipe's Butch Ferneyhough told Construction Canada Online. "As has been reported by many publications and jurisdictions, our municipal infrastructure renewal needs are greatly under-funded. The mayors in all these jurisdictions (Ontario or otherwise) have viable, technically sound options engineers should be incorporating into their sewer designs."