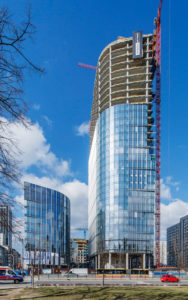 The Mennica Legacy Tower, a commercial high-rise complex by architecture firm Goettsch Partners (GP) has topped out in a growing district of Warsaw, Poland.
The complex is divided into a 35-storey tower on the southeast side of the site and a smaller 10-storey building on the west side. The project adds more than 65,000 m2 (700,000 sf) of Class A office space and also includes a conference centre, fitness amenities, street-level retail, and four levels of underground parking.
Designed by GP with Epstein as architect of record (AOR) and structural/mechanical, engineering, and plumbing (MEP) engineer, the tower is constructed for nearly column-free floor plates to allow larger lease spans and flexibility in tenant workplace. Outside, tenants and visitors are welcomed at street level by the tower's three-storey lobby, enclosed with a transparent, cable-supported glazing that blurs the boundary between the lobby and outside. The tower core is clad with large stone slabs accentuating the solid mass of the core, in contrast to the lightness of the building's lobby.
"The two buildings are designed to be integrally linked with the large urban plaza," says James Goettsch, FAIA, chairman of GP. "Our goal was to create an architectural composition that offers a unique sense of place, to enhance the public realm of Warsaw."
The complex features sweeping rounded corners at the south that open to the large public plaza and define the main pedestrian pathway between the two buildings. The tower mass features rounded corners on the northeast and southwest sides helping to reduce the visible length of the east and west façades, and on the opposite corners, the tower incorporates a strong vertical edge.
The southeast and northwest corners are further highlighted by slightly recessed vertical slots breaking up the building's mass. The southeast corner of the tower steps in three-floor increments outward as it rises, opening the slot to the sky and creating a profile that becomes a glowing beacon at night. A sloping screen wall at the building's top enhances the profile and integrates roof terraces into the overall massing. The textured, saw-toothed façades reinforce the rounded corners and give the enclosure an ever-changing appearance as one moves through the complex.