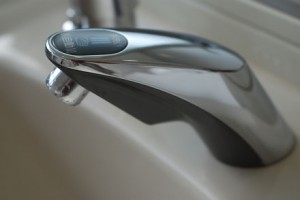 Using electronic faucets reduces potential cross-contamination from faucet handles to healthcare providers' hands, according to discussions at last month's meeting of the North American plumbing organizations.
Held at the Alliance for Water Efficiency (AWE) facility in Chicago, the gathering was facilitated by the American Society of Plumbing Engineers (ASPE). From across the continent, stakeholders represented included:
• plumbers;
• contractors;
• engineers;
• inspectors;
• code officials;
• standards development organizations; and
• manufacturers.
The key issue discussed by the group was a presentation on hands-free faucets provided by Johns Hopkins University staff. The following conclusions and recommended actions resulted from the meeting:
• broad industry participation (i.e. manufacturers, engineers, subject-matter experts, and installers) early in any research process would enhance the research regarding accuracy and results;
• the ASPE Research Foundation will co-ordinate research projects designed to address questions raised by the Johns Hopkins presentation; and
• a separate position statement on the use of electronic faucets will be developed by the group for future release.
"No matter what area of the plumbing community meeting attendees represented, there was one common focus from all: a commitment to providing plumbing systems that help protect public health and safety," said the group's executive director, Jim Kendzel, MPH, CAE. "It is our hope this highly successful meeting will become a foundation for future positive, interactive dialogue among those groups directly impacting plumbing in North America."