Plans unveiled for Park Hyatt Toronto redevelopment project
July 22, 2019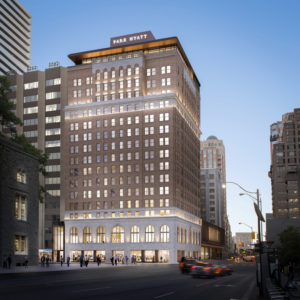 Designs have been revealed for the redevelopment of Park Hyatt Toronto. The iconic hotel will be fully modernized and restored to its landmark status.
The plans create 65 luxury rental apartments at the site's heritage south tower, 3716 m2 (40,000 sf) of retail and restaurants throughout the complex, and a 219-room Park Hyatt hotel in the site's north tower. The heritage-designated south tower will be completely retained and restored, making it the first high-rise in the city to be totally retained in an adaptive reuse project.
The project will be designed by Toronto-based KPMB Architects[2]. Studio Munge[3], also based in Toronto, will be doing the interior design. Both the hotel and residences will feature local Canadian materials including limestone flooring sourced from Owen Sound, Ont.
The connecting pathway between the north and south towers will be replaced by an expanded multi-level podium that will house the hotel lobby, a ground-level, 929-m2 (10,000-sf) restaurant with a roof deck, and 1301 m2 (14,000 sf) of meeting and event space, including a new, 600-person capacity ballroom.
The complex will also feature 1858 m2 (20,000 sf) of retail in the south tower with 30 m (100 ft) of frontage. The retail space will comprise two floors of 929 m2 and the second floor will have double-height ceilings.
The project is under construction and the hotel is slated to re-open in 2020.
Endnotes:
[Image]: https://www.constructioncanada.net/wp-content/uploads/2019/07/Opener-9.jpg
KPMB Architects: http://www.kpmb.com/
Studio Munge: https://www.studiomunge.com/
Source URL: https://www.constructioncanada.net/plans-unveiled-for-park-hyatt-toronto-redevelopment-project/
---