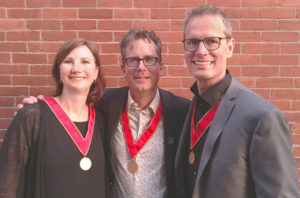 Perkins+Will congratulates its Vancouver office principal Ryan Bragg and Toronto office design director Andrew Frontini on their induction to the Royal Architectural Institute of Canada's (RAIC's) College of Fellows, class of 2018. They join two other Perkins+Will team members, David Dove, principal, and Susan Gushe, managing director of the Vancouver office, who were inducted into the College of Fellows in 2017 and 2015 respectively.
The RAIC bestows fellowship on architects in recognition of their outstanding achievement. Criteria include design excellence, exceptional scholarly contribution, or distinguished service to the profession or the community.
"Ryan is a rare and passionate architect and community builder who advocates for sustainable urban development as much as he does for design excellence," says Gushe. "We are delighted to congratulate Ryan on this truly honourable recognition."
Over his 20-year career, Bragg has led a range of projects including multiple, complex mixed-use developments, as well as higher education, transit, and residential projects. His recently completed Marine Gateway project in south Vancouver has received several awards including the prestigious Urban Land Institute's (ULI's) Global Award for Excellence. The 81,290-m2 (875,000-sf) development sets a precedent for building mixed-use livable communities integrated with transit. Bragg actively speaks on issues of sustainable urban development and has become an advisor within the development industry and with policy makers. A strong advocate for design excellence, Bragg served as a past chair of the City of Vancouver's urban design panel.
Frontini's design approach is driven by a strong social agenda. His designs for universities, municipalities, library systems, and commercial and corporate clients have been recognized through numerous design awards. Frontini has taught at the University of Waterloo and serves as a visiting critic at the University of Waterloo, University of Toronto, and the Ryerson University School of Architecture. Some of his recent projects include Ryerson University's Daphne Cockwell Health Sciences Complex, University of Waterloo's Engineering 5 and 7, the Nathan Phillips Square Revitalization in Toronto, the Meadowvale Community Centre and Library in Mississauga, the Albion District Library in Etobicoke, and the Bank of Canada Head Office Renewal in Ottawa. He is also the design lead for an expansion project at the University of Toronto Mississauga. For more information on the project, click here.