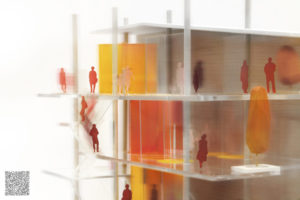 A plan created by Vancouver designers to transform a site in New York's West Village into an affordable co-living multi-family residence has won a Merit Award in the 2020 Phil Freelon Design Competition, an annual firm-wide event that seeks to elevate Perkins and Will's design culture.
'Pivot' was awarded for its flexible, modular design for co-living that provides a choice of living spaces along a public to private spectrum, and pairs complimentary lifestyles with shared resources. In conjunction with an interactive digital platform, this new approach empowers residents to share comfortably and gradually, opening the door to co-living to people of diverse backgrounds and life circumstances.
"I like the concept that the spaces are modular and can be used part-time by people," said Rebecca Rudolph, one of five independent jurors of the competition. "Even during different hours of the day, it acknowledges that people have different rhythms and ways of living."
Pivot is designed by Mahdiar Ghaffarian, Hannah Gibson, Alyssa Quiring, and Rick Browner.
Four teams from the Vancouver studio submitted entries into the three-day competition. Each entry has a different approach to addressing housing affordability through a co-living model.
The three other Vancouver studio submissions include:
'The Grove,' created by Bojana Jerinic, Aidan Carruthers, Rufina Wu, and Elsa Snyder (finalist);
'Beelive,' created by Yalda Amin-Shahidi, Maryam Ahmadi, and Laurence Renard; and
'ARK,' created by Raana Dorneshan, Ivana Nikolic, and Mohamed Imam.
The design challenge: Co-living
This year's challenge addressed the dire need for affordable housing—a growing humanitarian crisis in cities across North America.
The concept of co-living is being reimagined in the technological age as a solution to address high costs of living. It also accommodates a desire for greater flexibility among temporary and permanent urban residents. To contribute to this emerging industry, 68 design teams from around the firm accepted the challenge to create an affordable co-living concept that incorporates a shared economy, social networking, collaboration, and increased density. Economic inclusion, equity, well-being, and resilience were key design criteria.
Teams were free to choose from one of three real-life sites: an industrial building New York City's West Village neighbourhood, a vacant asphalt lot in the historic Lodo area in Denver, and an industrial warehouse in downtown Los Angeles's arts district. In addition to addressing unique site-based challenges, the teams also had to consider ways to handle geographically specific environmental challenges, including sea level rise, flooding, and extreme drought. Teams had four days to conceptualize, visualize, and finalize their proposals. Then, a panel of jurors from outside Perkins and Will assessed each submission and selected the winners.
Click here to see the full list of winners.