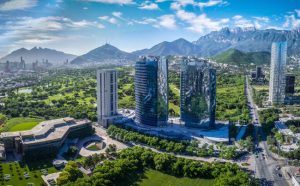 Architecture and design firm Perkins and Will has opened a studio in Monterrey, Mexico. The new office is situated just over the border from the firm's three Texas studios.
"The most important thing for our clients to know is that, from our Monterrey studio, we will offer them the best of both worlds: a seamless blend of local and international designers, and the research, technology, and expertise of a global firm with award-winning work on nearly every continent," said Antonio Perez Vazquez, an architect in the Perkins and Will Dallas studio.
Born and raised in Mexico, Vazquez has now relocated to Monterrey to help oversee the studio's growth and operations.
The new studio is staffed by full-time local team members who are supported by people from Perkins and Will studios worldwide.
Tom Reisenbichler, member of the Perkins and Will board of directors, will serve as the Monterrey studio's leader for a period of time while the practice gets up and running, with Vazquez handling the day-to-day business.
While the Monterrey studio is the first physical design centre to be established by Perkins and Will in Mexico, the firm has been doing work in the country since the late 1950s. The 1962 opening of the Escuela Nacional de Agricultura—the National College of Agriculture—marked the beginning of a decades-long relationship between the firm and much of Latin America.