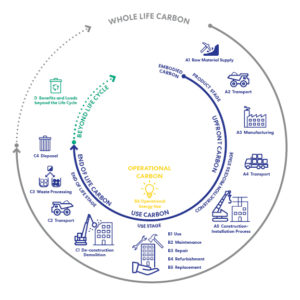 On the 50th anniversary of Earth Day last week, the Vancouver and Calgary studios of Perkins and Will announced they will immediately begin offering clients a Carbon Impact Statement with every project at no additional cost to help identify carbon reduction measures.
The statement will build on best practices to limit 'operational' carbon—greenhouse gases (GHG) emitted during the project's operations phase—through the integration of passive design measures, minimization of energy loads, optimization of systems, and integration of energy renewables. It will also include recommendations on the use of low-embodied-carbon materials, striving to limit GHGs emitted during the materials' life cycle.
The new offering will be integrated into the early design stage of every project. Led by their research and sustainability team, this initiative will be applied to projects located in Western Canada.
"Building upon our legacy of designing great places for people and our planet, we are committed to helping our clients create buildings and spaces that are climate-positive," said Susan Gushe, managing director at Perkins and Will's Vancouver and Calgary studios. "We are at a critical juncture to make meaningful change, and are pleased to offer our clients a Carbon Impact Statement as a means to help reduce each project's GHG emissions."
The Carbon Impact Statement provides carbon reduction strategies for all project types—­from interiors and retrofits to new builds and community planning.
In support of this effort, the studios' research and sustainability team is releasing Embodied Carbon in the Built Environment—A Primer that summarizes emerging knowledge on embodied carbon targets, conservation strategies, tools, and timelines for action.