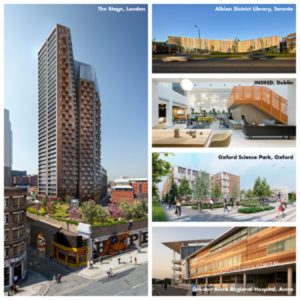 Global architecture and design firm Perkins and Will buys Penoyre & Prasad, based in London, United Kingdom.
The merger, which grew out of the firms' common environmental and social concerns, goals, and design philosophies, benefits both practices while enhancing design services for clients worldwide, said Penoyre & Prasad.
"The global resources provided by Perkins and Will mean that we can increase our reach and fulfil our ambition to design in a more holistic way, with wider impact," said Ian Goodfellow, a partner at Penoyre & Prasad. "This is particularly important given the climate emergency the world is facing."
Penoyre & Prasad will operate as a studio within the London branch of Perkins and Will, retaining its brand for a few years during a period of integration. All 35 staff members will co-locate to Perkins and Will before the end of the year.
"Our new colleagues from Penoyre & Prasad are an invaluable addition to our team, and to our network of clients," said Linzi Cassels, design director of the London studio of Perkins and Will. "Now, we can seamlessly apply best practices in commercial architecture and interiors to projects in the healthcare, higher education, and civic sectors, and vice-versa. Our clients have access to everything they need under one roof."