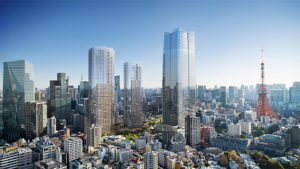 Pelli Clarke Pelli Architects has designed three towers for the Toranomon-Azabudai district urban redevelopment project in the heart of Tokyo, Japan.
The core concept of the project is of a 'modern urban village,' a neighbourhood that will combine a megalopolis with the intimacy of a small village.
The project will cover an area of more than 8 ha (20 acre), similar to New York's Rockefeller Center, and feature extensive greenery totaling 24,000 m2 (258,334 sf) including a 6000-m2 (64,583-sf) central square.
Its physical structures will incorporate cutting-edge seismic designs and technologies, with dedicated power stations supplying electricity to the whole neighbourhood. The project is designed to provide a safe city allowing people to live and work even in the event of a major disaster on the scale of the Great East Japan Earthquake in 2011.
The Toranomon-Azabudai project will create a people-centered space by blending diverse elements and creating a world of its own. It will weave offices, residences, a hotel, an international school, retail shops, restaurants, and cultural facilities into the fabric of everyday life, encompassing work, learning, recreation, interaction, and relaxation.
All of the electricity supplied to the neighborhood will be from renewable sources, which will meet the targets stipulated in the RE100 international environmental initiative led by the United Kingdom's Climate Group. The project is also applying for certification under the WELL building standard.
The project completion is scheduled for March 2023.