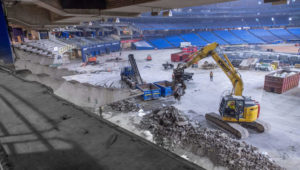 Rogers Stadium Limited Partnership awarded the first phase of the Rogers Centre's $300 million renovation to PCL Constructors Canada Inc. last month, and work is now well underway this off-season before the stadium opens for the 2023 season in April.
Rogers Centre was conceptualized as a multi-purpose stadium when it opened in 1989 and has not undergone a large-scale renovation in its 33-year history. The project will address the most important challenges with the current stadium, while not rushing the necessary long-term work needed to maintain the ballpark for future generations of fans.
To meet the fast-track schedule, work is being sequenced in two shifts over a six-day work week. Demolition to bring portions of the stadium back to base is already nearing completion, enabling next steps.
A few highlights of the work are as follows:
Demolition
The demolition began on Oct. 14 with 500L seat removal (all 17,000 and their railings to be replaced for the 2023 season), followed by structural demolition of the outfield beginning on Oct. 20.
The demolition was completed last week (Nov. 18), culminating in 35 days of work and approximately 21,000 worker hours.
An average of about 110 workers have been on site daily, six days per week, including about 50 workers dedicated to demolition.
997,903 kg (2.2 million pounds) of materials have been recycled from the stadium, including: 58,967 kg (1.3 million lbs) of concrete; and 408,233 kg (900,000 lbs) of steel and metal.
A 200,000-kg (440, 924 lbs) crane was used for heavy structural removal, while small machinery was utilized to break up concrete.
The outfield turf has been protected or removed in certain areas to facilitate construction, while the infield remains accessible to the Blue Jays Field Operations team to continue offseason work.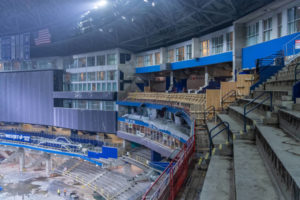 New build
The size of the stadium allows for multiple projects to progress at the same time, so while demolition was being completed, rebuilding work was initiated with the pouring of concrete into 500L seats and the installation of new structural steel.
"PCL and our partners are passionate about bringing the Toronto Blue Jays' reimagined vision for Rogers Centre to life," says Monique Buckberger, vice president and district manager, PCL Toronto. "Following months of preconstruction planning, our team hit the ground running on the first phase of renovations to give the home of Canada's Major League Baseball team a new look for the 2023 Home Opener."