By Graeme Verhulst, Architect AIBC, MRAIC, CPHD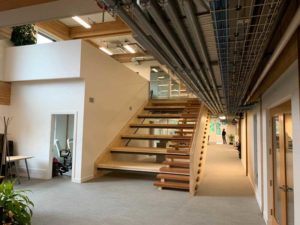 The benefits of high-performance buildings are being recognized by owners, designers, and policy-makers alike. This led to an uptake in Passive House (PH) design, as it is widely recognized as the most rigorous energy-based standard in the construction industry today. It is a proven way to ensure the best possible comfort and air quality along with low operation and maintenance costs.
The standard has so far been almost entirely applied to residential buildings in North America. Located in Greater Victoria, British Columbia, the Charter Telecom headquarters is poised to become the first commercial office building in North America to earn PH certification.
Achieving a high-performance building status requires a design co-ordinated across a web of interconnected factors. It may sound complicated, but is doable with good planning and intention. This case study demonstrates a net-zero energy ready (NZER) commercial building can be constructed on a challenging site by trades without the requisite training, and sans the need for financial incentives or grants, at a reasonable cost.
Owner's motivation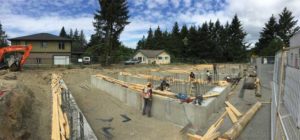 When developing a new, roughly 1500-m2 (16,000-sf) office building to house its growing staff, Charter Telecom enumerated several priorities including:
the facility must be representative of Charter's brand as an innovative and forward-thinking company;
improve the already vibrant staff culture and help recruit the best and brightest in the industry;
the building was to act as a sales tool—a physical demonstration of what Charter does well;
set a new standard for the changes coming to the neighbourhood; and
low-operating expenses and reasonable construction costs.
By the end of the schematic design process, Charter was willing to embrace two non-traditional approaches that are still in their infancy in Canada—the Passive House standard and engineered mass timber construction. Both these approaches were made challenging by site restrictions, which quickly became the main driver of design.
Design process and challenges: site and massing
With PH certification identified as a core goal, one of the first considerations was massing and orientation. The site is narrow, with the long direction oriented 19 degrees off the north-south axis. The road frontage is on the south. The geometry and zoning constraints result in a building where all sides receive some amount of direct sunlight, with larger exposures being on the east-north-east and west-south-west sides. The greatest opportunity for daylighting was on the west-south-west side—this also presented an overheating risk, which became another design consideration. Glazing areas were kept lower than is typical for an office, and space planning ensured occupants would spend the majority of their time in places with the most daylight. Glass with a low solar heat gain co-efficient (SHGC) was chosen.
The narrow site also had to accommodate parking. A conventional surface parking arrangement with a central drive aisle and two rows of cars would have taken up the entire width. Ramping to an underground parkade would also be awkward and inefficient. Therefore, the design team opted to raise the building and provide surface parking underneath it.

Control the content you see on ConstructionCanada.net!
Learn More.