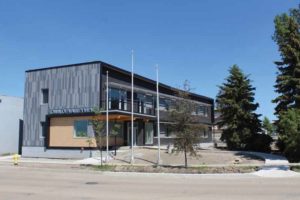 Adhering to the Passive House standard allowed this building to compensate heat gains and losses throughout the envelope by using solar energy (42 per cent), internal temperature gains (34 per cent), and heating (23 per cent). The high levels of energy efficiency allowed for the installation of 28 kW of solar panels to fulfill the structure's total energy needs.
To ensure airtightness, the building envelope was designed to complement the super-insulated, thermal bridge-free timber structure with a rainscreen system in order to help prevent condensation and future issues related to moisture and frost. The structure is composed of full-perimeter insulation with a U-value of 0.097 on exterior walls 38 x 235 mm (2 x 10 in.) wide and a 38 x 140-mm (2 x 6-in.) insulated cavity space wall with an R-value of R-58, 3.4 times higher than the R-17 required by ABC.
This design combines the positive features of orientation, fenestration, building envelope systems, and airtightness to effectively maintain comfortable indoor temperatures year-round. However, several design and material trade-offs were made to acquiesce with the requirements of ABC and the Passive House standard.
To maintain steady temperatures across the three levels of the building, ventilation specifications included a mix of outdoor variable refrigerant flow (VRF) systems for cooling and heating and a high-efficiency energy recovery ventilator (ERV) with heat recovery. However, due to the climate conditions of Valleyview, the design team specified an ERV not certified by the Passive House Institute (PHI), resulting in a penalty on the performance values accepted by the institute for building certification.
To improve the esthetics and the contextual integration of the town hall, the main entrance is framed by a human-scaled canopy with a raised roofline, superimposed by a glass fibre-reinforced concrete (GFRC) wall on the second storey. This design results in an attractive, yet subtle presence at street level welcoming visitors to the facility. The main exterior finish of the building is phenolic panel siding on the visible south and east elevations and prefinished metal siding on the north elevation.
Although the initial project budget did not consider government funding, designing to the Passive House standard provided access to provincial green building grants. For instance, energy-efficient buildings in Alberta are eligible for incentives helping bring down the initial investment for solar technology. A grant from Alberta's Municipal Climate Change Action Centre (MCCAC) allowed for the installation of 25 kW of solar panels on the new building's rooftop. With $18,000 of extra funding, the building is equipped to generate 26,945 kWh per year, maximizing operational savings and reducing GHG emissions by 17 tonnes (19 tons) per year.
Meeting the core principles of the Passive House standard, this state-of-the-art building ensures long-term financial and environmental sustainability for the Town of Valleyview. Moreover, the Valleyview Town Hall sets a precedent for the feasibility of Passive House-certified buildings in northern climates as a means to reduce carbon dioxide (CO2) emissions and fight climate change.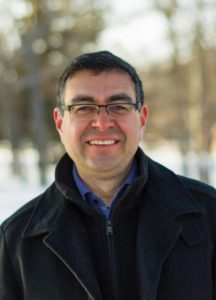 Oscar Flechas, AAA, AIBC, CPHD, MRAIC, is an architect with experience in various sectors and on different-scale projects. His firm, Flechas Architecture, is a progressive, small, and young studio that uses simple and creative design solutions to produce innovative and environmentally and socially responsible results. He is an early adopter of the Passive House standard and is passionate about creating low-energy and low-carbon buildings for future generations. One of the few architects certified as Passive House designer in Alberta, Flechas embraces most tools that encourage better building standards to help achieve greener buildings in Canada. Flechas can be reached via e-mail at oscar@flechas.ca.

Control the content you see on ConstructionCanada.net!
Learn More.