Passive House Canada joins Metro Vancouver building coalition
by brittney_cutler_2 | January 4, 2022 3:55 pm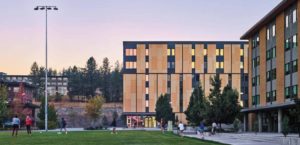 Metro Vancouver's Zero Emissions Building Exchange (ZEBx) has launched its Building to Electrification (B2E) Coalition with a new member, Passive House Canada.
B2E is a British Columbia member-based coalition which was launched in September 2021. Its purpose is to create opportunities for multiple stakeholders to work collabo­ratively to identify and address barriers to electrification and take actions which contribute to a meaningful market shift to decarbonizing the province's building sector.
Passive House Canada, a non-profit professional association advocating for the Passive House high-perfor­mance building standard, joined the coalition to help ZEBx in its mission to help British Columbians benefit from low-carbon buildings. Building electrification is a critical component to reducing carbon pollution because of the province's abundant supply of clean, renewable electricity and the mature state of high-efficiency, electric technologies for most building space and water heating applications.
"To be successful in this emerging market, we need to work together with industry. We at Passive House Canada are thrilled to partner with the B2E coalition and ZEBx as we continue to see electrification spearhead the energy conversation," said Chris Ballard, CEO of Passive House Canada.
"Passive House has always believed in efficiency first, by bringing the energy consumption levels down, and by using renewable sources of energy to heighten electrification. This method optimizes the move into electrification without putting tremendous strain on the grid while trying to meet the surge in demand."
In 2016, the City of Vancouver released its Zero Emissions Building Plan, which requires most new buildings to be near-zero emissions by 2025 and all new buildings to be zero emissions by 2030. In 2017, British Columbia released the BC Energy Step Code, which allows local governments to mandate a standard set of minimum energy-efficiency requirements for new developments and sets the path for almost all new buildings to be net-zero energy-ready by 2032.
Founded in 2018, ZEBx is a trusted, neutral, and well-connected organiza­tion which uses a collaborative model dedicated to supporting both industry and governments through this transition.
Endnotes:
[Image]: https://www.constructioncanada.net/wp-content/uploads/2022/01/TM_PassiveHouse.jpg
Source URL: https://www.constructioncanada.net/passive-house-canada-joins-metro-vancouver-building-coalition/
---