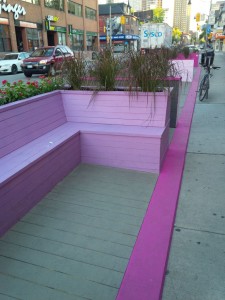 A pilot parklet project on Church Street in Toronto may extend to other city streets after positive feedback.
The installation of wood decks with planters and seating has been appearing over parking spaces across a few blocks of the city. Although new for Toronto, these installations can also be seen in Vancouver, New York City, and San Francisco.
The wood assemblies are constructed flush with the sidewalk and then wrapped with planter boxes. The seating comprises either built-in benches or moveable patio tables and chairs.
The parklets rely on standard building material, Mike Yorke, president of Carpenters Local 27, told Construction Canada Online.
"Primarily pre-fabricated in the shop, with some onsite assembly/installation, 4x4s, 2x4s, and 2x6s are screwed together," he explained. "Further, a strip of 19.05-mm (¾-in.) plywood forms a safe, wheelchair-accessible transition from the sidewalk to the parklet, painted a bright and contrasting colour to stand out for improved safety."
The installations are prepared by apprentices and journeypersons before being transferred over to the sites. They are also coated with a fire-retardant and stained/painted onsite.
The purpose of the project is to provide extra space for pedestrians to observe the city.
"The city benefits from an improved and engaging urban environment," said Yorke. "Given that many volunteers worked on the project from beginning to end, it allowed a great number of people to contribute to the health and vibrancy of their city."