By Ralph Bruno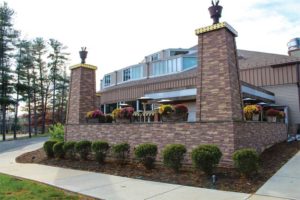 Builders and designers are now continuously looking for the rich mixed material esthetic natural stone offers. However, it is not always possible to achieve it because skilled labour might be unavailable. Construction professionals may therefore seek products requiring less inherent skills. Thankfully, newer technologies can reduce concerns about installation and weather challenges with traditional stone materials. Specifically, the market is seeing solutions, such as manufactured/cultured stone, panelized manufactured stone, and composite stone. Composite stone alternatives represent an emerging category, as they are easier to install and maintain and have the added benefits of moisture impermeability and colourfastness.
All masonry products have their pros and cons, depending on the project, timeline, and what the installer hopes to achieve. Composite stone panels are lightweight and, therefore, do not require heavy equipment or jobsite tenting during installation to account for inclement weather conditions. They strongly resemble stone veneer and come in 2-m (6-ft) panels. Mortar looks are available, but mortar or grout is not needed for installation. The panels do not contain silica. A grit texture is applied for a realistic matte finish and feel.
Panelized stone veneers can be installed by almost any siding contractor or carpenter as they can be cut with regular woodworking tools. Stone veneer systems with built-in clips are also mortar-less, but use a wire hanging system. While not necessarily panels, they can cover larger areas than typical veneer sizes. For panelized stone with preassembled veneers, safety equipment to protect from silica is recommended, though the panelized and clip systems require less cutting.
Masonry stone installation
As mentioned, stone installations require skilled tradespeople who are familiar with a range of tools and building products. In most installation scenarios, a mason requires specialized wet saws, scaffolding, bracing/supports, and mortar/grout mixes to install heavy natural stone or cementitious veneers. The Canadian Centre for Occupational Health and Services' (CCOHS's) jobsite safety regulations are similar to ones by the Occupational Safety and Health Administration (OSHA) in the United States, although Canadian requirements are governed by provincial occupational health and safety legislation. Prudent safety measures require masons to establish a limited access zone, tie-offs, scaffolding, and supporting elements. These may limit mobility on the jobsite.
As regulations tighten and skilled labour becomes more difficult to find, designers have sought building techniques requiring less work, while maintaining an esthetic appeal resembling natural stone.
As explained earlier, manufacturers have addressed labour shortage by creating products offering the appearance of stone but with a significantly easier installation process and built-in moisture management. New composite stones are lighter than traditional cement-based options, they are suitable for ground contact, deliver moisture resistance, and are silica-free. Composite stone products reduce the need for layers of mortar coatings, metal screens, and moisture barriers. Additionally, they eliminate the requirement of time-consuming code inspections. Composite stone delivers the desired look, feel, and overall esthetic.
Stone veneer systems have been developed in both panelized systems and/or with integral wire hanging attachments to reduce cuts, ease installation, and assist in moisture management, while eliminating the need for mortar. Stone veneer systems with built-in clips do not require cold weather preparations like a rainscreen, but need a weatherproof barrier.
While composite stone and panelized veneer products have removed the mess of mortar/grout from the installation process, this is not the case for all stone options. Additionally, cement-based stone veneer components often require presorting of the colour patterns, need specialized cutting equipment, and proper ventilation due to silica dust, a known carcinogen. Silica dust is flagged by both CCOHS and OSHA as a health hazard with exposure leading to a variety of ailments including silicosis. Craftspeople cutting stone, stone veneer, or panelized manufactured stone veneer should work with caution in a well-ventilated area, as some products contain up to 50 per cent silica.
As with other occupational regulations, silica exposure levels in Canada's construction industry vary by province. An alarming report by CAREX Canada cites that approximately 380,000 Canadians are exposed to silica at their work, primarily in the construction sector. According to the 2011 cancer statistics from the Occupational Cancer Research Centre's (OCRC's) Burden of Occupational Cancer Study, 570 lung cancer cases (2.4 per cent overall) were attributed to the occupational exposure to crystalline silica in Canada.

Control the content you see on ConstructionCanada.net!
Learn More.