By Bob Duke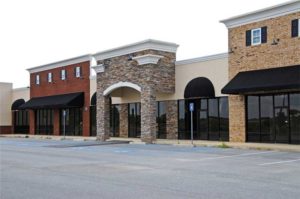 Though thin brick veneers were first developed in the 1950s as a way to reface existing construction, this material now occupies a very prominent position in the building and home improvement market for both new and existing exterior and interior applications in residential and commercial construction. As the world continues to move in a more sustainable direction with thoughtful attention paid to building materials, thin brick veneers stand out for their natural sourcing, insulating properties, and longevity.
Properties of thin brick veneers
Thin brick veneers are manufactured stones made from the same materials and processes as other types of brick, but are thinner and weigh less. Since thin brick veneers are 1/4 to 1/3 the size of the full version, they are easier to haul around the jobsite, and provide a number of benefits for labour and logistics. Additionally, these finishes demand fewer raw materials and clays, thereby providing a greener, more sustainable option for the construction industry.
Thin brick veneers are ideal for home or business owners who desire the look of full brick, but want to save money. They can eliminate the brick ledge, heavy footers, lintels, and headers supporting the full brick. This also gives the owner more conditioned square footage to use or sell. Traditional brick structures are built as free-standing walls tied back to a supporting structural wall such as concrete, concrete block, steel frame, or sheathing. The brick becomes part of the building's structural support system. Thin brick veneer installations do not carry the same support or impose similar kinds of loads. Instead, they adhere to the exterior wall substrate. The building itself is often constructed from steel or wood frames, followed by suitable sheathing panels, lath, and mortar leveling bed. A growing option is to use cement backer as the substrate over steel or wood-framed constructs, which can replace the lath and mortar in the system. In many cases, thin brick veneers are easier and faster to install.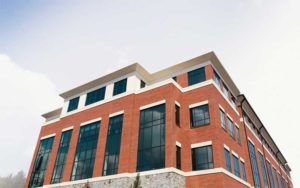 Thin brick veneer also provides noise reduction by reflecting sound waves and absorbing energy. These veneers can lower the impact of damage, wear and tear, heat, and vandalism, as they do not fade, melt, or dent like other types of veneers. Additionally, its thermal performance is increased when added to an existing wall because the brickwork stores and releases heat more slowly, thus requiring less insulation than non-brick walls.
Canada mandates a minimum 10-mm (394-mils) drainage cavity in exterior wall systems with a rainscreen placed after the sheathing and air and water-resistant barriers (A/WRBs) are installed. A lath and scratch or concrete backer board with the thin brick is installed next, allowing any moisture that goes through the finish system to enter the drainage cavity and weep down and out.
Barriers for installation
Thin brick veneers are ideal for many applications including façades, fireplaces, chimneys, and free-standing landscaping walls. Due to their vast area of exposure, A/WRBs are required to prevent weather-related damage such as water infiltration, which can potentially cause freeze/thaw conditions and thermal damage, as well as cracks and delamination in the structure and finishes.
When selecting an appropriate A/WRB, determining factors should include a careful review of applicable building codes like those regulated by the Canadian Construction Materials Centre (CCMC) or the Building Materials Evaluation Commission (BMEC) in Toronto and Ontario, location and placement of the A/WRB within the building envelope, substrate type, building envelope finish, and method of adhesion. The review should also include consulting with a water management engineer to determine which performance properties are required and to what degree. Masonry contractors should note a lot of variables are involved, and not one A/WRB can fit all applications.
The type of A/WRB should also be considered. Liquid-applied barriers are preferred by the industry because they are easier to install than sheet materials. The latter may flap around in the wind, especially on exterior installation sites. Liquid-applied barriers are also more seamless than sheets and have the ability to bond directly to a wide variety of substrates, including concrete, cement, exterior glue plywood, and sheathing panels with ease. Newer developments of these types of products often contain low volatile organic compounds (VOCs) and the antimicrobial technology that is suitable for use in construction projects where air and water barriers are required to improve building efficiency and durability.
Insulation options
Continuous insulation (ci) is defined by the American National Standards Institute/American Society of Heating, Refrigerating and Air-conditioning Engineers/Illuminating Engineering Society (ANSI/ASHRAE/IES) 90.1-2016, Energy Standard for Buildings Except Low-rise Residential Buildings, as "insulation that is continuous across all structural members without thermal bridges other than fasteners and service openings. It is installed on the interior, exterior, or is integral to any opaque surface of the building envelope."
This type of insulation gained attention as energy codes began pushing for higher thermal performance values in commercial building walls, specifically on the exterior. However, with ci foams, one must worry about the National Fire Protection Association (NFPA) 285, Standard Fire Test Method for Evaluation of Fire Propagation Characteristics of Exterior Wall Assemblies Containing Combustible Components, especially in structures that are 13 m (40 ft) or higher. The NFPA 285 test was developed to test flame spread from floor to floor to allow time for building occupants to evacuate before a fire reaches them.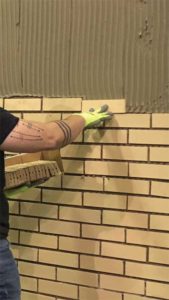 Sprayed polyurethane foam is another insulation option. It is the responsibility of the design professional to determine which insulation is best for a building and ascertain the potential risks of using spray foam on exterior walls including any toxic ingredients or the possibility of cracking. To do so, the design professional must meet with an engineer or spray foam expert to deliberate.
Rigid foam insulation (RFI) and insulated concrete forms (ICFs) can help prevent thermal bridging by covering the exterior and frames. When insulation is only used between studs, thermal bridging can occur over the uninsulated areas and lead to energy loss for the building. Protection from thermal bridging will allow for a more efficient, healthier building. As these systems evolve within the construction industry and code, manufacturers have designed several systems working with RFI and ICF, for both vertical and horizontal applications.
To determine the best types of insulation for thin brick veneers, it is best to consult an engineer with expertise in the field. The engineer will determine the correct location in the wall to use an insulation system and also the building codes to meet for the highest quality build.
Thin brick veneer installation
The installation of thin brick veneers is conducted with onsite mortar mixes subject to large variations in quality and performance. Industry installation methods and standards require various product performance levels to 'match' materials to the application based on specification demands, local codes, and complexity. Usually, the more demanding applications, such as areas heavily exposed to the outdoors, require the best adhesive mortars, grouts, and installation accessories. These types of applications need installation products with better working and performance properties and characteristics such as 2068 kPa (300 psi) shear bond strengths or greater, flexibility that can achieve two to five times transverse deformation, and weather resistance.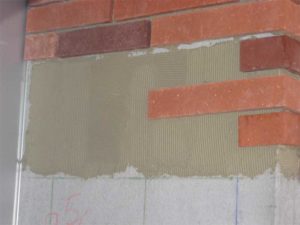 Whether over concrete or masonry substrates, installations include metal lath or cement backer board and fasteners, and often provide inadequate protection from the weather, resulting in water intrusion and delamination of the veneer. It is important for masonry contractors to consult design professionals and product manufacturers before use to ensure the correct A/WRB is selected and it meets project specifications and design intent as well as installed in the proper location within the assembly. Additionally, the use of compatible pre-packaged levelling, adhesive, pointing mortars, and accessory items provide an upgrade to traditional site-mixed mortars and adhesives, as well as offer a complete single-source warranted installation system.
Once a suitable masonry substrate is in place and levelled to the specified plane to receive the adhered veneer, the contractor will apply an A/WRB. Exact application method, location, and quantity must be specified by the design team.
Then the thin brick adhesive mortar is used to install the thin brick. The mortar must be mixed to the desired consistency and applied to the substrate. Typically, the adhesive mortar is applied with a flat trowel working the adhesive into good contact with the substrate, and then the additional adhesive mortar is applied with a notched trowel (e.g. 6 x 9 mm [1/4 x 3/8 in.] square notch) to apply an even bed of adhesive to the substrate. While the adhesive mortar remains wet and tacky, more may be applied to the backs of the thin bricks with a flat trowel. The installer finishes up by adhering the mortar-covered back of the thin brick to the substrate and wiping away the excess. Once the thin bricks are set firm, it is recommended to use a high-performance pointing mortar to point the joints.
As a cautionary note to contractors, it is absolutely vital to achieve the appropriate adhesive mortar coverage during installation, and one should always try to achieve complete coverage of the thin brick. Additionally, the contractor should rely on the architect to determine where weep and drainage points may be needed in the system. Another important element to consider is the selection of an adhesive mortar that will last and perform in freeze-thaw climates, a must in Canada.
Warranty
When the installation is all said and done, what matters most is a lasting structure. Building materials manufacturing companies often offer warranties for their products. However, they may not be for an extended time period. When choosing materials, it is advisable to keep an eye out for systems coming with 15- to 25-year system warranties for the most guaranteed coverage for clients.
Bob Duke serves as associate director of the masonry veneer installation systems at LATICRETE International, Inc. that specializes in tile and stone installation systems and construction solutions. He has been with the company for 14 years and has more than 35 years of industry experience.

Control the content you see on ConstructionCanada.net!
Learn More.