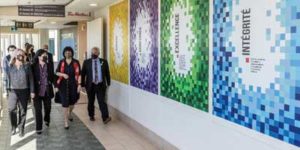 Ottawa's Collège La Cité has received $12.6 million to enhance its new digital strategy aimed at upgrading its current technology infrastructure.
The Government of Canada is investing nearly $10 million over three years so Collège La Cité can move forward with this technological project. The Government of Ontario is also contributing more than $2 million over three years.
This funding will support the development of three online micro-certifications in digital citizenship in collaboration with the Université de l'Ontario français and Groupe Média TFO.
A further investment of $300,000 from the federal government will allow Collège La Cité to repurpose four spaces into collaborative classrooms. These classrooms will be equipped with state-of-the-art technology and ergonomic furniture to facilitate a variety of educational uses. Collège La Cité, supported by the Ontario government, is also investing $300,000 in this project.
The first two projects are funded under the Canada-Ontario Agreement on Minority-Language Education and Second-Language Instruction (2020–2021 to 2022–2023). Funding for the classroom retrofits is provided through the Community Education Infrastructure Project.